VC shows appreciation to staff
- Wits University
Wits Vice-Chancellor celebrates the service excellence of sterling Professional and Administrative Services (PAS) members of staff at the University.
The shining Wits Stars were recognised and honoured at the inaugural Vice-Chancellor's Services Excellence Awards that took place on Monday, 26 November at Sturrock Park.
These awards acknowledge PAS members of staff who have rendered exceptional services to staff and students in a timeous and professional manner and those who have consistently delivered high quality work. The quality of service rendered at the University is a reflection of the quality of human capital at the institution.
Wits University prides itself in excellence and producing quality research and graduates. The PAS staff are core to the academic success of the University, playing an incremental role in propelling the vision of the institution. They are key to the operational efficiency of the University providing essential services to staff and students.
"PAS are fundamental to the academic project of Wits and are fundamental to the realisation of our goals," said Professor Adam Habib, Wits Vice-Chancellor and Principal at the special awards ceremony.
He added that the PAS Awards "are long overdue and need to be given the credence as other VC Awards".
Carol Crosley, Wits Registrar and Chair of the VC's PAS Awards Committee says that the nominees were assessed according to their focus on serving Wits' customers, reliability and dependability, innovation and process improvement and accountability.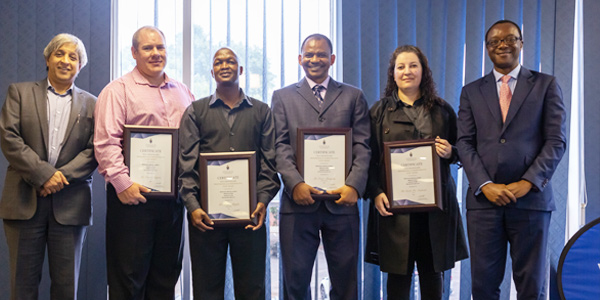 Four awards were given to PAS members across various grade levels, Faculties, Departments and Schools. Mr Koena Matjila, from the Faculty of Health Sciences was recognised for being a conscientious and reliable worker who demonstrates high levels of professionalism in his duties. Mr Matjila, who works as a technician in the mortuary at the School of Anatomical Sciences executes his job with great tact and is dedicated to his job despite it being unpleasant at times.
In the grades 13 to 10 category, a long-standing employee of the University, Mr Oscar Manqaba from Campus Protection Services was recognised for his exceptional work ethic as Investigations Officer, maintaining high quality work and for displaying desirable traits of honesty, reliability and professionalism. Mr Manqaba first joined Wits in 1991 as a "dog handler". He later took a short break from the institution and he returned as a security guard in 1995. With a strong urge to advance and upskill himself, Mr Manqaba has since worked his way up to his current position.
Mr Xerxes Seegers, Operations Manager in the Services Division Cleaning Department was awarded for outstanding services in the category of grades 9 to 7. Mr Seegers was recognised for his invaluable commitment towards the insourcing project and going beyond the call of duty assuming responsibilities of key functions in addition to his own contracted responsibilities. He displayed great innovation on how to best service the University during tumultuous times and served the institution with pride, assisting with the cleaning of campuses in the evenings and early hours of the mornings.
The last VC's Service Excellence Award in the category of grades 6 to 5 was awarded to Miss Nicole De Andrade, Finance Manager in the Services Department. She played a critical and strategic role during the insourcing period representing the department and working under high degrees of pressure. She acts with integrity and a level of conscientiousness that is commendable.
For a period of time, she took full responsibility for the Services Department, ensuring that operations were fully functional in addition to her own job responsibilities. As Finance Manager, she has provided valuable insight into the Chief Operating Officer's insourcing budget for various departments including Campus Protection Services, Services Department and the Property and Infrastructure Management Development.
In 2019, team awards will be introduced, alongside the individual VC's Service Excellence Awards and will have a joint awards ceremony with other VC Awards says Vice-Principal, Professor Tawana Kupe. The call to nominate PAS staff members for the 2019 awards will be made early next year. All staff members are encouraged to nominate their outstanding colleagues