Making maths cool
- Wits University
Innovative and engaging teaching methods can make mathematics comprehensible and 'cool'.
The Wits Maths Connect Secondary Project (WMCS) through its Transition Maths 1 (TM1) course ensures that teachers remain committed to their profession by advancing their mathematical knowledge and their teaching methods.
The WMCS project, which is managed by Dr Craig Pournara, is the brainchild of Professor Jill Adler, an award- winning maths education guru and the SARChI Chair in Mathematics Education at Wits.
The TM1 course empowers educators to assist their learners who are moving from Grades 8 and 9 to Grade 10 Mathematics. It imparts knowledge and creative teaching methods to make mathematics comprehensible to learners and thus encourage them to select Mathematics in Grades 10 to 12. More than 150 Mathematics educators in 80 schools in seven regions of Gauteng have completed the course since its inception in 2012.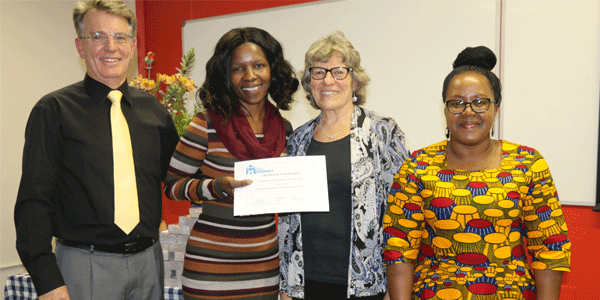 Dr Moneoang Leshota, TM1 Course Coordinator, says that the TM1 course sought to strengthen the teachers' mathematics content knowledge and encourage the use of proper mathematical language in classrooms.
"The TM1 course aimed to equip teachers with relevant content and pedagogical knowledge to manage the teaching of mathematics better, and to work through the challenges of teaching mathematics with their learners and provide skills for each teacher's self-reflection, " says Leshota.
At a celebration of the culmination of the TM1 course in November 2018, Adler congratulated the teachers and thanked them for their commitment to their profession and learners' success.
"We are about taking our teaching and our work seriously, to help teach mathematics, because we know many of our learners find it difficult. I am proud to be associated with you, because you represent what it means to be professionals who want to invest time, energy and thought to ensure you become better teachers. As better educators, this will enable us to improve our other practices. This celebration is a mark of your good work and commitment."
Adler urged the teachers to share the skills and knowledge they have gained with their colleagues at school and to motivate for innovative teaching in their schools.
"It might be the end of the course but it is the beginning of the rest of your professional lives. While the course is over, our work is not over."
The teachers, thrilled to have completed the course successfully, said that it had added value to their teaching methods and that they have started seeing an improvement in their learners.
Mathematics teacher Steve Leso, from S.G Mafaesa Sec. School in Gauteng West found the course enriching and he gained a lot of valuable knowledge that he will practise in his classroom. He hailed the Wits Maths Connect Project team for their depth of mathematics education knowledge.
"Throughout this course, from the beginning until the end, I saw good governance and good management. The teachers were committed. The supervisors and managers gave their time to teach us. When I go back to class, I'll carry this motivation with me."
The celebrations were honoured by the presence of top officials from the Gauteng Department of Education