Improving the world with materials science
- Wits University
Grade 10 learners from across Gauteng explore material sciences in a quest to improve the world.
Every year, the DST-NRF Centre of Excellence in Strong Materials (CoE-SM) at Wits invites learners from Gauteng schools to participate in the Materials Science Poster Competition.
The competition aims to attract more learners to the field of materials science, develop their knowledge of its properties, and teach learners about the applications of strong materials. These materials retain their distinctive and applied properties under extreme conditions and have established or potential commercial applications.
"Through this competition, we want people to know how important materials are. Materials are something we often take for granted even though they are part of our everyday lives," said Professor Lesley Cornish, Director of the DST-NRF Centre of Excellence in Strong Materials at the prize-giving ceremony held for the winning students on 11 October 2018 at the Wits Club. The competition was coordinated by Professor Deena Naidoo who was assisted by Miss Jacqui Jacobs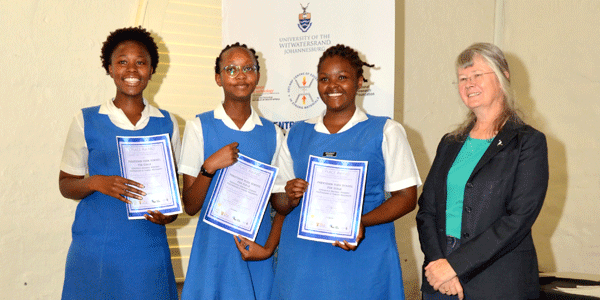 Cornish explained the numerous study opportunities available to learners in the field of materials science.
"Yes, you can do materials at school. You can also do materials at university. There are various ways in which you can study materials. There are materials science degrees, materials engineering degrees, physics degrees that has many materials and includes the fields of chemistry and mechanical engineering."
Motivating the learners to pursue a career in materials science, Dr Rodney Genga, the guest speaker and alumni from the CoE-SM, said that the skills-set of learners who study materials science is critical to advancing Africa.
Genga highlighted the role the learners would play in showcasing Africa in the fourth industrial revolution.
"We are now in a position where we can start determining programmes, designs and structures which can fit in the fourth industrial revolution. Your minds will become some of the drivers of this."
Learners from Parktown High School for Girls won the first and third prizes for their poster, We Can. We can Aluminise (first prize) by Siphosihle Mbongo, Rendani Tshitangano and Temoso Molebatsi, and for Metamaterials (third prize) by Ammaarah Badsha.
Learners from The King's School West Rand won the second prize for their poster, Captain Carbon by Mia Forgey.
The first prize winners won R15000 cash for their school, second prize receive R10000, and third prize, R5000.
Firoza Patel, Head of Physical Sciences at Parktown High School for Girls said she was proud of the creativity that her learners displayed in their posters. She said that her school is science-centric and urge learners to take up the subject.
"At Parktown Girls' High we are strongly focused on science. We recently just built a new science centre. A competition like this takes the learner out of the mainstream science that they do in class. The competition is about real science, exposes learners to what science entails, and broadens their horizons about the various careers in science."