China Africa bonds
- Wits University
China not interested in being a new colonial power but seeks to develop win-win partnerships in Africa.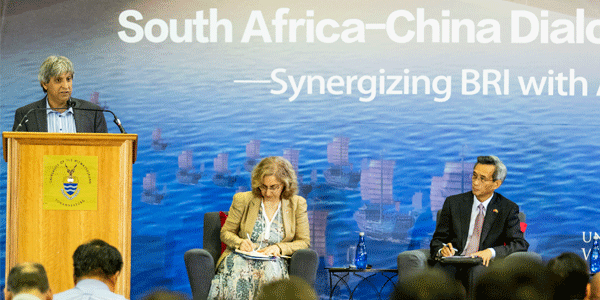 China's Ambassador to South Africa Lin Songtian has lashed back at critics who paint China as the new colonial power draining Africa of its resources and trapping governments with unaffordable megaprojects.
"Some people and countries in the West are fearful to see China supporting Africa to achieve independence politically and economically. As a result, they will never cease fabricating stories of so-called Chinese neo-colonialism, debt trap or lack of investment transparency," he said.
Songtian was a panellist at a conference which sought to unpack the Belt and Road Initiative (BRI), an inter-regional connectivity drive by the Chinese government involving infrastructure development and investments in countries in Europe, Asia and Africa to link China and the world via maritime and terrestrial trade corridors. Hosted by the Wits Journalism China Africa Reporting Project, the conference also focused on how South Africa can connect with the BRI bringing with it the much desired job creation, interconnectivity in the region and trade.
To date, 113 countries and 29 international organisations have signed the BRI cooperation documents with China.
Read Songtian's speech.
The general view among panellists was that China has good intentions and can help to unlock Africa's potential.
China is Africa's best development partner according to Wits International Relations Professor Garth Shelton.
China has experience in large scale projects and has managed to uplift millions of its citizens out of poverty, Shelton.
Parliamentary House Chairperson of Committees, Oversight and ICT Cedrick Frolick held the same view citiing the long history between China and Africa. The BRI presented Africa, South Africa with a chance to strenghen people to people contact.
Frolick advied that South Africa needs to draw lesson from Ethopia and Kenya who are already reaping the benefits of the BRI.
Ecological and environmental issues must be considered before South Africa undertakes any BRI projects, advised Frolick.
In his opening remarks Wits Vice-Chancellor upheld the view that was nothing sinister about China wanting an interest in its investment.
"All countries have an agenda".
"Why shouldn't China advance its own agenda if it is putting billions out into world. We need to ensure there's a coincidence in interest between Africa's agenda and China's," Habib.
The rise and role of China in development should be welcomed because history has taught us that "in a world with a single superpower, the developing world tends to lose out", said Habib.