Wits crowned champions of the first Varsity Basketball tournament
- S'fiso Nyawo
Wits crowned champions after defeating the best in the country.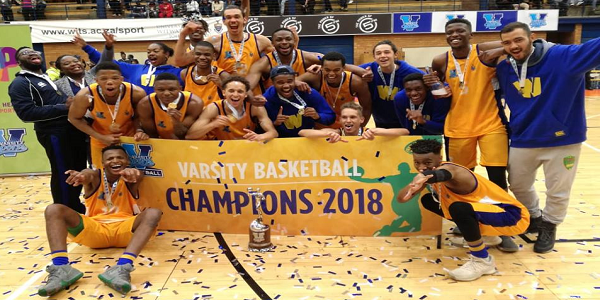 The two week showdown between the top eight university basketball teams in the country culminated in a stunning match between Wits and the University of Cape Town. Wits beat UCT by 78-55 on 15 October 2018 at the Wits Sport Hall.
Wits managed to accomplish this feat going unbeaten the entire tournament. Wits' Everisto Passipamere also bagged the Most Valuable Player of the tournament or his exceptional role throughout the season and Wits' successful campaign to secure this maiden title.
The game saw Wits get off to a better start, bagging a two-pointer very early on before UCT quickly hit back. The game was played at a very fast pace, with Wits enjoying the early exchanges due to them being more accustomed to playing quick ball. Angelo Quinn also made his presence felt very early on scoring a three-pointer from the central part of the court. This pushed Wits to a 17-9 lead after the first quarter. Kyle Maclean kept his consistency from the last game for UCT, troubling the Wits defenders that were playing a high press. This saw UCT add a further 11 points to their tally, which however wasn't enough to overcome the Witsies who themselves closed the quarter leading 41-20 at the break.
Wits' Passipamere was particularly dangerous in the third quarter, after he managed to slam dunk the ball into the basket on two occasions, sending the crowd into a frenzy. The atmosphere inside the arena kept the ballers energised, with the majority cheering for the home team. Siphumle Qanya was once again in top form, mostly tasked to mark Thamsanqa Nyawo, who was a handful on his own but Qanya handled it very well. The UCT skipper was also busy on both ends of the court, blocking the waves of Wits attacks but was also able to net a few points for his side from very difficult angles.
The third quarter buzzer eventually sounded and it was Wits who were still in control with the score at 68-42. The final quarter was just Wits keeping up the scoreboard pressure, completely keeping UCT a fair distance away from them. The game concluded with Wits being crowned the champions, beating UCT 77-55. Kyle Maclean was the stand out man for UCT, bagging 21 points whilst Passipamere contributed 28 for Wits.
The original article first appeared on the Varsity Sports website.
2018 Varisty Basketball Participants
University of KwaZulu-Natal, University of Johannesburg, University of Cape Town, Nelson Mandela University, Tshwane University of Technology, University of Pretoria, Vaal University of Technology and hosts for the tournament Wits University.
Wits Basketall Team Members
Angelo Quinn (Bachelor of Arts)
Briarley Klaasen (Bachelor of Health Sciences in Biokinetics)
Bulelani Mabudusha (Bachelor of Commerce with Law)
Clinton Meela (Bachelor of Science)
David Mbamalu (Bachelor of Laws)
Everisto Passipamere (Bachelor of Science in Metallurgy and Materials Engineering)
Kgaugelo Sathekge (BSc Engineering)
Kgotseng Makena (Bachelor of Science)
Kgotso Ntuane (Bachelor of Science in Physiotherapy)
Makoye Mapani (Bachelor of Science in Construction Studies)
Miguel Ferrao (Bachelor of Commerce)
Mvelo Buthelezi (Bachelor of Architectural Studies
Romeo Ferraro Bachelor of Science (Construction Studies)
Siphesihle Buthelezi (Bachelor of Commerce)
Thamsanqa Nyawo (Bachelor of Commerce)