Wits Team eFundanathi and eZone in Learning Idols
- Wits University
A lecturer in the Wits School of Therapeutic Sciences was in the top three vying in Learning Idols at the Learning Innovation Africa Conference 2018.
The Learning Idols at #LIA2018 displays technological innovation in teaching and learning.
Dr. Paula Barnard-Ashton, manager of eFundanathi [learn with us] and the eZone at Wits, vied for Learning Idol against Lebogang Lekoma from Sea Monster and Ricky Hinde from Cell C. Barnard-Ashton ultimately placed second after Lekoma.
"The eZone has been transforming the way lecturers in the School of Therapeutic Sciences engage in teaching and learning activities, by bringing 21st Century learning and technology into the classroom", says Barnard-Ashton, who leads the team at Wits who won the Vice-Chancellor's Teaching and Learning Award (team category) in 2017.
As part of her presentation at #LIA2018, Barnard-Ashton included an example from Physiotherapy of how learning spaces in higher education need to move away from rigid, fixed desk lecture theatres. eFundanathi demonstrated a video app that the students could use in the eZone to practically learn clinical skills.
"After trying it with our second-year students, I will never go back to the traditional teaching methods I used before. It has reignited my passion for teaching, and the students eagerly participated. We all had fun!" says Vaneshveri Naidoo, a lecturer in Physiotherapy at Wits.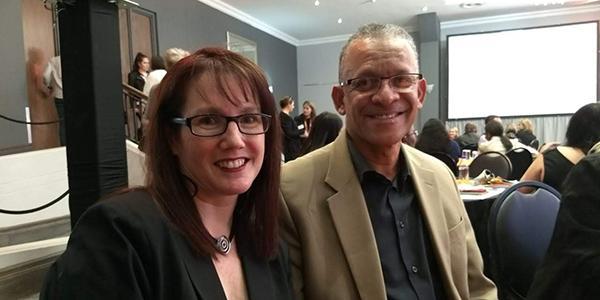 The eZone enables real blended learning and student collaboration by bringing together technology and flexibility of space. Professor Andrew Crouch, Deputy Vice-Chancellor: Academic, who supported Barnard-Ashton during the group session rounds of Learning Idols, reinforces the importance of redesigning learning spaces in his statement:
"Wits University has committed to developing five innovative, technology-rich learning spaces similar to the eZone across Wits campuses over the next two years."
Barnard-Ashton says that a top three placement in Learning Idols emphasises that university initiatives like the eZone and eFundanathi can compete on an intellectual and innovation level against private businesses as hubs of excellence.
"It is very rewarding," she says.