Science, art and social cohesion play clinches BASA award
- Wits University
All From One, which has toured SA, Kenya and Tanzania shines at the Business and Arts South Africa Awards.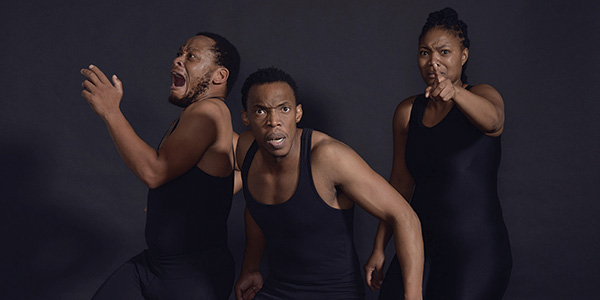 The Palaeontological Scientific Trust (PAST) and Standard Bank were named winners in the Development Award category at the 21st Annual BASA (Business and Arts South Africa) Awards which took place in Johannesburg on Sunday.
Awarded to business and arts partnerships with an implicit educational and development element, PAST and Standard Bank were recognised for their 20-year partnership in taking Walking Tall's All From One message to learners, educators and communities in South Africa, Kenya, Tanzania and beyond.
The Walking Tall Educational Theatre Project enables Africa's youth to gain powerful insight into our shared origins—and so confront misconceptions about race and humankind's role in the natural world. Comprised of a physical theatre performance piece and a science session, and capable of being staged in a school hall, an auditorium or under a tree, Walking Tall plays a pivotal role in spreading the message of PAST's global public understanding campaign, All From One.
"Winning this award is a wonderful recognition for how a combination of science and the arts can produce a message that's expressed in physical theatre, but that tells a scientific story about the unity of humankind and how we are all part of nature," commented PAST chief scientist, Professor Robert Blumenschine.
Speaking at the awards event, Professor Blumenschine and PAST CEO, Andrea Leenen, paid tribute to Standard Bank's support for Walking Tall/All From One, as well as the role of Walking Tall's director, Matthew Lotter, and Physical Theatre Director S'bo Ntshebe and cast.
"Winning this award is a privilege for a scientific organisation like PAST," said Leenen. "It's an endorsement of our relationship with Standard Bank who has supported this two decade-long mix of science, art and social cohesion. What makes Walking Tall unique is that it is a truly collaborative production where the scriptwriting and direction of the piece is a joint effort between our scientists and team of theatre specialists. This award is testament to the fact that, even when you have complicated messages based on science, DNA and natural selection, you can use art to bring these to anyone, of any age and skillset, anywhere in the world.
"I'd like to pay special tribute to our directors and cast. It's just incredible that a 45-minute physical theatre production can take you on a 4.6-billion year journey of earth's and life's history and make it engaging, accessible and impactful."
Business and Arts South Africa's flagship award event recognising dynamic business and arts partnerships was held in the Victoria Yards precinct and honoured winners in 11 adjudicated categories.