Charlize Theron speaks to Wits students
- Wits University
South African born and Academy Award winning actress, Charlize Theron says it is "time to be brave".
Theron was speaking during her visit at Drama for Life last month as part of the the Charlize Theron Africa Outreach Project (CTAOP), which has made an international commitment towards sexual reproductive health and wellness, and more specifically HIV/AIDS prevention and education.
The visit also aimed to continue fostering key partnerships for the implementation and practice of HIV prevention programmes targeted at children and adolescent youth.
The CTAOP was founded in 2007 as a means of having direct contact with the youth by working with community-based organisations that are informed, accessible, ethical and embody health and wellness knowledge for purposes of social transformation.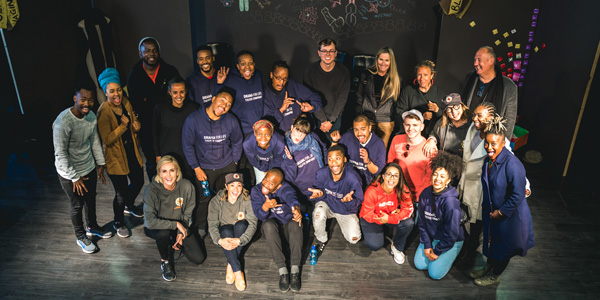 CTAOP recognises that there are over 7.1 million individuals in South Africa living with HIV/AIDS and 1/3 of these individuals is youth from the ages of fifteen to twenty-four years (CTAOP;2017). For this cause, it was fitting that CTAOP partner with Drama for Life, Wits to expand The Knowledge Unzipped Project dedicated to providing best health practices and and wellness education for youth groups across South Africa.
Drama for Life, Wits is known to challenge conventional ways of engaging with gender, sexuality and HIV/AIDS and the CTAOP team came well-prepared, as the Wits Acting Vice-Chancellor, Professor Tawana Kupe and DFL Director Warren Nebe, welcomed Theron, social media sensation Lilly Singh (better known as IISuperwomanII), Kweku Mandela and a host of leading funders to a day filled with theatre-in-education.
Honest, hilarious and hard-hitting scenes were performed; thereafter, among the facilitators and guests, one of them stated "I recognise this!", as the collection of narratives that were shown resonated with real life events that had previously impacted guests from all across the globe. The work showcased the Drama for Life Theatre Company, a professional creative research unit at DFL that does work in schools, universities and communities to bring about changes in unhealthy social behavioural patterns.
It is "time to be brave!" said the South African-born founder of CTAOP, Charlize Theron, as she recognised, from the performances, that marginalised groups in South Africa still lacked representation. Theron spoke about the importance of individuals telling their own story and becoming the forefront respondents in ensuring that their human rights are upheld and respected.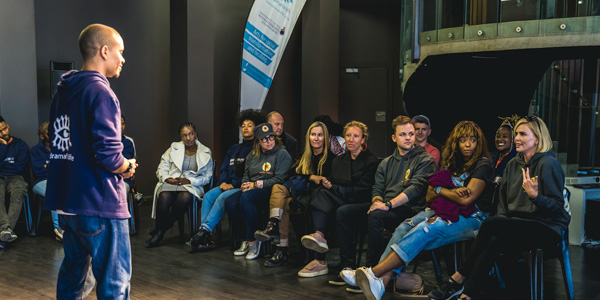 "We are incredibly privileged to have the support of a progressive partnership with CTAOP. Theron, the CTAOP Team and partners play a critical role in the key to our success. Through CTAOP, Drama for Life has been able to establish the first creative research unit of its kind in South Africa, specifically dedicated to SRH education. We are proud of Hamish Neill and the team of 10 creative researchers who make up the Drama for Life Theatre Company", sid Nebe.
Core values in personal storytelling, peer-to-peer relationships and the reduction of stigmas in communities for the safeguarding of youth, is what aligns responsive organisations such as CTAOP to institutions like Drama for Life, Wits.