Witsies celebrate #Mandela100
- Wits University
The intellectual home of Nelson Mandela, Wits University, used innovative ways to celebrate the values of the global icon and founding father of South Africa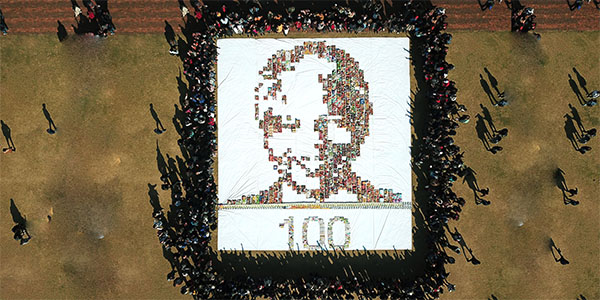 Wits staff and students successfully ran two campaigns and mobilised support for the Wits Food Bank, which supports students with limited resources.
The All Residences Council (ARC), with support from Campus Housing and Residence Life and Wits Services, spearheaded a campaign which raised R110 000 from students living in Wits residences.
ARC asked students in catered residences to donate by forgoing a meal in the dining hall, and the sacrificed meal was converted into a monetary equivalent. The three women's residences – Girton, Medhurst and Reith – donated the largest amount, followed by Knockando Men's Residence.
Wits staff and the general student population were challenged to complete a huge canvas bearing an image of Madiba's face with non-perishable foods. The daunting but fun challenge saw Witsies from across the five campuses come together to meet the challenge.
By 14:30, a drone hovered above the canvas and captured the stunning multi-coloured picture of a smiling Mandela created from food and sanitary items, and surrounded by Witsies shouting, "Happy Birthday, Mandela!"
Addressing the crowd, Jerome September, the Dean of Students urged Witsies to unite against common challenges. adding that giving must be a part of our DNA beyond Mandela Day.
The Wits Food Bank is managed by the Wits Citizenship and Community Outreach (WCCO) project . The WCCO oversees several initiatives aimed at combating food insecurity on campus. These include the Masidleni Daily Meal Project, which provides a daily hot lunch to approximately 800 students, and nearly 4000 students receive food hampers for provisions after hours and weekends.
The WCCO, together with students and partners, also run a thriving vegetable garden on West Campus, which supplies vegetables to the hot meal project and to students in need of support.
Related articles:
Students promote gardening on campus
A boost for student food programme
"Overcoming poverty is not a gesture of charity, it is an act of justice" #Mandela100