Family is everywhere at Wits
- Wits University
Her parents might not have been able to attend her graduation but Sarah Blessed-Sayah was beaming next to her Wits 'mom'.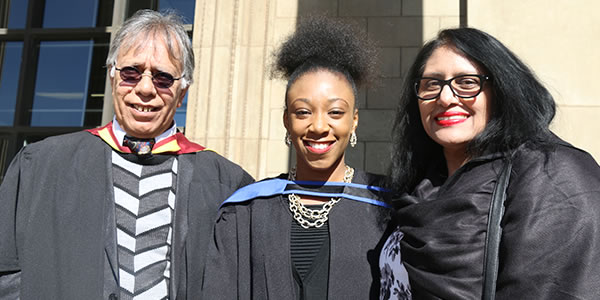 Ameeta Merhoye was clapping all the way when Sarah graduated with a Postgraduate Certificate in Education on Tuesday afternoon.
The pair met when Sarah arrived at Wits in 2017 from Nigeria, anxious about being in a new country without family – and missing luggage!
The warmth of Ameeta, a Teaching Experience Administrator in the Wits School of Education, reassured Sarah that all would be fine as she was now home among Witsies.
Since then the two have become family. "She's my South African mom," says Sarah.
Ameeta wipes away tears as her 'daughter' talks about the love Ameeta has showered upon her. Their embrace is interrupted by another graduand wanting to take a photograph with them.
Although praise is showered upon Ameeta, she is adamant that Sarah is very independent. Like a proud mother, she boasts that her 'daughter' got a distinction for her qualification and already has a BSc Honours in Insurance from the University of Lagos.
The desire to teach came to Sarah when she had already netted a promising corporate job. Wanting to be the best teacher, she looked for an institution where she would get the best teaching qualification.
"I am fortunate that my family in Nigeria supports my decision," she says.
She is currently enrolled for an honours degree in education and has already applied to start her master's in 2019.