Vice Chancellor's scholarships represent pinnacle of excellence
- Wits University
The 2018 Vice-Chancellor's Awards celebrate the elite of excellence.
Education is the backbone of a country's economic prosperity. The Vice-Chancellor's Equality Scholarships at Wits University is an initiative to contribute to the country's success by enabling talented youngsters to access quality education at Wits.
This year marks the fourth anniversary of the VC's scholarships. At the 2018 VC Scholarship Awards, held on 19 May at the Wits Club, over 20 academically talented and financially deserving students from across the country were granted scholarships to study at Wits.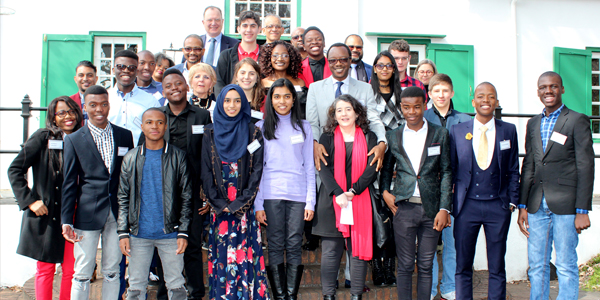 The scholarships not only recognise the academic excellence of the recipients, but also celebrate their resilience, determination and hard work, said Wits Acting Vice-Chancellor, Professor Tawana Kupe in his address to the recipients and their families.
"You are a representation of what we consider to be excellence in South Africa because your achievements have resulted in you being at this ceremony today and getting these awards is a pure example of excellence. So, whatever school you went to, whatever challenges there were, or whatever support systems were there – and some of you went to schools with very good support systems –what you did was to take that opportunity and to excel.
I think excellence is what we all inspire to but few actually attain it. So we are actually here today celebrating what I would call the 'elite of excellence', and it is the elite of excellence in any society that drive the society forward, that creates the best society you can actually find. So today we are also celebrating people who are on a trajectory of excellence, which will uplift our country, uplift our continent and make a major contribution," he said.
This year's scholarship awards were attendedby 2014 VC's Scholarship recipients, now Wits alumni, Relebohile Mashile and Thembinkosi Qwabe
Mashile, originally from Mpumalanga, said the scholarship positively transformed her life. She is now pursuing a master's in Accountancy and training to be a chartered accountant. She encouraged the 2018 recipients to reach out to the Careers and Counselling Development Unit at Wits and the First Year Experience programme should they need emotional support and tips to navigate the University environment.
"Be willing to learn. The most difficult thing for a person who has a high IQ or who is very intelligent is admitting that they don't know how to learn something. So be willing to learn. I say it from experience, because I know how hard it is to say 'I don't know something' when you are that smart," said Mashile.
Qwabe, a master's student in Petroleum Engineering echoed Mashile's remarks and urged the 2018 recipients to manage their stipends responsibly and wisely while lending a helping hand to other students in need.
The 2018 awards were a special occasion for Elizabeth Labase, a Wits employee whose adoptive son, Tshepo Motsoeneng was a recipient of the VC's scholarship. Labase is one of the staff members who were insourced by the University last year. She beamed with joy as she expressed how her son made her proud.
"I am so excited as a Wits employee because when I first got to the University in the year 2000, I was only earning R2500. One day I was asking myself whether I would afford to send my child to university because, with a salary of R2500 you cannot, because registration is expensive, including books, fees and accommodation."
Insourcing gave her new hope she said. "When we got insourced, I told him that if he works hard, he will be able to go to university for free."
Motsoeneng, who got seven distinctions in matric is currently studying a medical degree and has aspirations of being a cardiologist one day.