Aspirations of a Just City
- Wits University
Could radicalism be a way to tackle historical injustices in cities?
The conversation around transformation is one which often leads to debates on decolonisation.
Transformation is a growing imperative for cities to undo the historical disparities of the past. Cities in Africa owe much of their segregated town planning to the colonial powers who designed these cities. Infrastructure and town planning were used as elements to build divides in cities.
In South Africa, the apartheid regime's Group Areas Act was one of the tools used to further segregate cities while creating unjust systems within cities.
Decades later, with the dawn of democracy and liberation, these forms of segregation methods are non-existent. However, despite this, the legacy of apartheid is still visible in South African cities through architectural planning. Many of the cities continue to have elements of colonialism and segregation which are not representative of the new democratic state.
A dialogue held by the Wits City Institute and the African Centre for the Study of United States (ACSUS) earlier this month, delved into how architectural planning can contribute to transform cities and to embrace urban justice.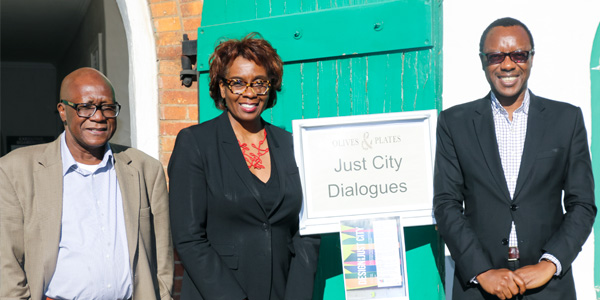 The dialogue, Just City Dialogues between Professor Toni Griffin from the Harvard Graduate School of Design, and Professor Noëleen Murray and Dr Mpho Matsipa from the Wits City Institute, shared insights on the architectural planning of Johannesburg and St Louis in Missouri (US). It explored ways in which these cities can be transformed as both have similar histories of segregation and oppression, for Johannesburg being apartheid and St Louis being slavery.
"St Louis has a long history of conditions of injustice going back to the reconstruction of a country coming out of slavery of where black bodies were viewed as property. Today, the US still has cities that are segregated by race," said Griffin.
These forms of segregations are "due to the legacy of past laws and regulations of our city that excluded blacks and moved them into a certain part of the community and pushed them to another," she said.
Griffin is a Professor in Urban Planning and leads The Just City Lab, a research platform at Harvard that investigates the definition of urban justice and the just city and examines how design and planning contribute to the conditions of justice and injustice in cities, neighborhoods and the public realm. Through her work, she is trying to understand how cities can move from conditions of injustice to justice.
Matsipa, a researcher at the Wits City Institute whose work is focused on urbanism and art, shared her experiences of the injustices that exist in the inner-city of Johannesburg. Like Griffin, she believes that radicalism is needed to address issues of injustices in Johannesburg and to transform the city.
"The question we need to ask ourselves is how do we reimagine the city and what are the kinds of interventions that are radical and transformative for that city?"
"We need to claim the rights to imagine the city that we want to live in without necessarily feeling completely beholden to certain planning gestures that were fundamentally intended to segregate the city," said Matsipa.
She added that when it comes to a Just City, what is important is the distribution of knowledge and how knowledge circulates.
Murray, the Director of WCI, echoed Matsipa's remarks, saying cities need to be reimagined differently for them to transform. She leads the New South Project that focuses on the south of Johannesburg. The project investigates the making and unmaking of the space envisaged by a set of key architects, planners and urban designers on out-mined land in a scheme.
Murray said that there is no doubt that town planning contributed to the segregation and segmentation created by the apartheid government.
"We should all be worried about planning. Planning is what made apartheid happen. It made it material. The Group Areas Act and Population Control played a huge factor in segregation," she added.