Wits Research Chair is first African president of global public health association
- Wits University
Professor Laetitia Rispel has been elected as the President of the World Federation of Public Health Associations (WFPHA).
Professor Laetitia Rispel holds the DST/ NRF SARChI Chair entitled Research on the Health Workforce for Equity and Quality, at Wits. She is the former head of the Wits School of Public Health.
Rispel is the first woman from Africa and only the third woman in the 50-year history of the WFPHA to preside. She took the reins on 20 May 2018.
The WFPHA is an official partner of the World Health Organization for the 2018 World Health Assembly, now underway until May 26 in Geneva, Switzerland. Rispel will represent the WFPHA at this meeting and at workshops on anti-microbial resistance and improving the health of indigenous people.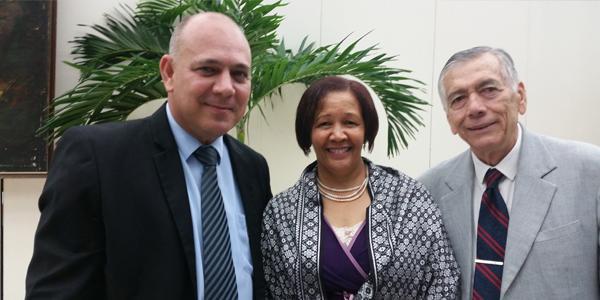 Established in 1967, the WFPHA is an international, non-governmental organisation comprising multidisciplinary national public health associations. It is the only worldwide professional society representing and serving the broad field of public health. Its mission is to prevent disease and promote and protect the health of populations.
Rispel has over 30 years' combined experience in research, teaching, public health, executive management, and health leadership. Her research expertise is in public health broadly and in health policy and systems research specifically. She has 92 peer-reviewed journal articles, book chapters, technical reports, editorials and non-peer-reviewed or popular articles publications in this field.
She has served on high-level Health Ministerial committees and provided expert technical support towards transformation in the health sector in South Africa. This has ranged from an analysis of the overall performance of the health system to designing an early warning system for quality of care.
Rispel's teaching philosophy has been influenced by the adult education theory of Paulo Freire, a Brazilian educator and philosopher who was a leading advocate of critical pedagogy. He developed an approach to education that links the identification of issues to positive action for change and development. Rispel continues to use adult education principles and creative teaching approaches with students.
She has extensive experience in organisational development and change management in addition to formal management and leadership qualifications. She is one of a few academics with an intimate knowledge and experience of transforming health systems in sub-Saharan Africa, gained as the former head of the Gauteng Health Department, as previous executive director of a Human Sciences Research Council research programme, and participation on national and international boards.