Wits-NRF Digitisation Initiative launched
- Wits University
The Wits-NRF Digitisation Capacity Development Initiative aims to build capacity, enable knowledge sharing and contribute to skills development.
Wits University has solidified its vision of a digital campus through the launch of the Wits-NRF Digitisation Capacity Development Initiative.
Launched on Friday, 11 May 2018, the initiative aims to build capacity, enable knowledge sharing and contribute to skills development in digitisation in South Africa.
The WITS-NRF Digitisation Capacity Development Initiative includes the now fully completed Wits Digitisation Centre, which was officially opened through a ribbon cutting ceremony on Friday by Professor Zeblon Vilakazi, Deputy Vice-Chancellor, Research and Postgraduate Affairs, and Dr Daniel Adams, Chief Director: Basic Sciences and Infrastructure, Department of Science & Technology.
Speaking at the launch, Vilakazi said that the digitisation initiative is also linked to the University's Vision 2022 research strategy adding that the "initiative really speaks to the library of the 21st Century", which preserves precious knowledge.
"By moving into this space, we are creating permanence in knowledge. This initiative is going to preserve resources which are national, continental and I do believe it speaks to the global treasure houses that assure that we generate new knowledge, we study it, we interrogate it from the body of youth from South Africa."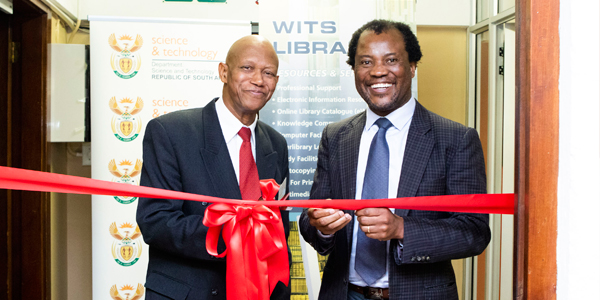 Keeping up with the digital revolution
Adams highlighted the essence of this initiative in the current digital era and the importance of Wits University in delivering the goals of the grant, which include to establish a functional digitisation and preservation centre; promoting and developing the skills of digitisation and preservation across South Africa, through training and knowledge sharing interventions; as well as to support the targeted institutions in their efforts to build their capacity to undertake digitisation and preservation.
Adams said that there are many benefits that come with digitisation. Digitisation allows people to share and track information easily; prepare for disaster; protects paper originals and ageing paper of originals while saving money and storage space, said Adams.
University Librarian, Paiki Muswazi ,said the motivation around the initiative was to preserve resources and widen access to research collections and outputs such as "previously hard to find and endangered Africana materials". He said through the initiative, the Library hopes to "apply standards to establish the foundations of a National Digital Library Aggregator Pilot Project and compile and implement comprehensive digitisation plans".
Enhancing teaching and learning
The Digitisation Initiative is central to Wits University's teaching and learning strategy to create a digital learning environment through new eLearning systems and innovative ways of learning. Professor Andrew Crouch, Deputy Vice-Chancellor: Academic at Wits University, says there is a growing need to create digital learning environments, given the rapid technological advancements.
"We are living in a rapidly evolving digital world, where technology pervades almost every aspect of our lives. Our students and staff are accustomed to connecting, inquiring and discovering online, but as a sector, South African universities are yet to fully capitalise on the potential that new digital technologies can bring to education. There are key drivers for universities to embrace digital learning," says Crouch.
The initiative will include training interventions linked to the galleries, libraries, archives and museums (GLAMs) sector requirements identified by the South African Digitisation Initiative (SADI). This initiative is in line with the Department of Science and Technology/National Research Foundation (DST-NRF) overarching goal of preserving and managing the scientific collections in the country.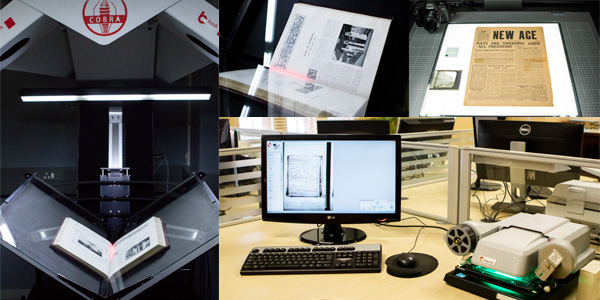 High tech equipment
The Wits Digitisation Centre, which has been operational since 2012, is actively involved in preserving and providing digital access to the University's research outputs, as well as the incredible cultural and scientific heritage at Wits, thereby boosting research opportunities and supporting teaching and learning. The Centre, housed in the basement of the William Cullen Library, boasts state-of-the-art digitisation equipment such as a large format A0 Zeutschel scanner, an A1 Cobra scanner with book cradle, Mekel microfiche/microfilm scanners, book edge scanners, and a Hasselblad scanner for slide scanning – all of which have been funded by the NRF. The Centre was expanded by the Wits Library in 2017 with an additional dark room and an adjacent 35-seater electronic classroom equipped with a Smart board and training laptops.
"Through the Wits Digitisation Centre, the Library provides the infrastructure, expertise and technical capacity, use of international standards and best practice, and state-of-the-art equipment to assist Schools, Faculties and the Wits community more widely to undertake various digitisation projects," says Gabriele Mohale, one of the team members in this initiative and archivist at Historical Papers, Wits University.