The Wits physiotherapist and Team SA at the 2018 Commonwealth Games
- Wits University
A Wits lecturer was amongst the physiotherapists who treated SA's athletes at the 2018 Commonwealth Games held at the Gold Coast, Australia, from 4-15 April.
The South African Sports Confederation and Olympic Committee (SASCOC) invited Siyabonga Kunene, a sports physiotherapy lecturer in the Department of Physiotherapy in the School of Therapeutic Sciences at Wits, to travel with Team South Africa to the Commonwealth Games.
He travelled with a team of about 195 athletes, including the likes of Caster Semenya, Chad Le Clos, Akani Simbine and many other well-known athletes. His role was to manage sports injuries that the athletes sustained during the Games.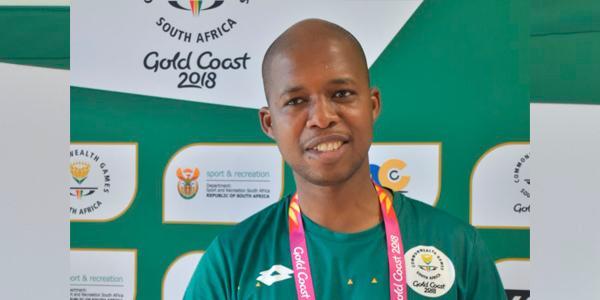 Apart from providing physiotherapy services, Kunene had the opportunity to gain valuable knowledge and skills from other clinicians and through the workshops he attended. These included:
Injury prevention model in sports
Sports tapping
Footwear and knee pain in orthopaedics
Differential diagnosis and selected exercises for hip pain
Musculoskeletal ultrasound imaging in sports
Concussion
Achilles tendinopathy
"The knowledge, skills and experience I gained will be useful in my practice as a physiotherapist and as a sports physiotherapy lecturer in the School of Therapeutic Sciences at Wits University," says Kunene, who is currently pursuing his PhD at Wits.
About 71 nations participated in 275 events across 19 sporting codes at the Commonwealth Games. South Africa finished sixth and returned home with 37 medals, including 13 golds, 11 silvers, and 13 bronzes.
"I had a great experience in Australia. I will always cherish these memorable moments in my career as a clinician. I feel privileged to have provided my physiotherapy services to such a talented group of South African athletes. I'm grateful to SASCOC for considering me as a physiotherapist for Team SA at the 2018 Commonwealth Games," says Kunene.
He previously travelled with Team South Africa to the 2014 Youth Africa Games in Botswana, to the 2015 All Africa Games in Congo Brazzaville, the 2016 University Games in Zimbabwe, and the 2017 World Games in Poland.