Clean sweep for Wits at international data science competition
- Wits University
Four Witsies learn about cloud computing, then go on and beat the global competition in the field.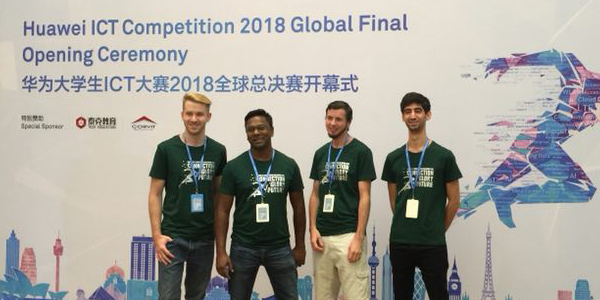 Four students and academics from the Wits School of Computer and Applied Mathematics walked away with top honours at an international data science competition that was hosted by Huawei in China recently.
Wits University recently became a Huawei Authorised Information and Network Academy (HAINA), and ran its first short course in Cloud Computing in November 2017. Here, four Witsies learned about cloud computing and built their own private clouds using Huawei FusionSphere technologies.
They went on to qualify as Huawei Certified Network Associates and entered the Huawei ICT Skills Competition, competing against over 40 000 students around the globe.
Steve James, Branden Ingram, and Brian Maistry (all Witsies) took first, second and third places respectively, while Wits won the Excellent Institution prize. Dr Richard Klein from the Wits School of Computer Science and Applied Mathematics won the Excellent Instructor prize.
Branden Ingram, Brian Maistry and Liron Mizrahi went on to the global finals in Shenzhen, China, last week and were placed third in the Enterprise IT track, competing against 69 students in 23 teams from 18 countries.