Tata in Africa continues to advance education
- Wits University
Tata Africa awards more postgraduate scholarships to Wits students.
The company has awarded 20 scholarships to academically and financially deserving Wits students as part of their postgraduate scholarship programme.
An awards ceremony was held for the scholarship recipients today, 13 March 2018 in the Senate Room, Solomon Mahlangu House, Braamfontein Campus East.
In order to help advance the development of higher education in South Africa, Tata Africa began its relationship with Wits in 2007. To date, over 240 postgraduate scholarships have been awarded, in conjunction with other Universities such as the University of the Free, Nelson Mandela Metropolitan University and the University of Kwazulu Natal. Tata has donated over R7.5 million rands to Wits since 2007.
The fields of study by the recipients ranged from Bachelor of Science with Honours, Bachelor of Education with Honours to Master of Science in Medicine, Master of Commerce, Master of Science in Engineering, Master of Science in Cardiovascular Physiology, Master of Science in Protein Biochemistry and a PhD in Physiology.
"It is our belief that post-graduate education produces better-educated citizens who are equipped to deal with a wide range of challenges and advancements and are more able to compete on a level playing field with countries outside of South Africa. This makes it possible for a higher standard of living and families are empowered as a direct result of increased earning potential".
"Tertiary education also helps to build skills and grow a healthy economy, which in turn benefits everyone. And that, is what drives our commitment to the post-graduate scholarship programe. We trust that through Tata's support and investment in these students, the company has helped pave the way in ensuring that sustainability and greatness can one day be realised", said Len Brand, the Executitive Director of Tata Africa Holdings.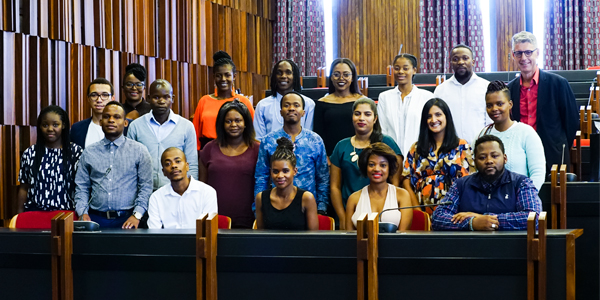 The scholarships have ingrained themselves as prestigious awards in postgraduate academia. In addition to the scholarships, Tata contributes to the national objective of increasing the number of women scientists in under-served research areas, through the Women in Science Awards (WISA) programme, a partnership with the Department of Science and Technology.
Speaking at the awards ceremony, Wits Deputy Vice-Chancellor for Research and Postgraduate Affairs, Professor Zeblon Vilakazi said that the University was grateful for the support from Tata.
"Tata has a strong history in doing research in Africa. Tata has long association with science and the pursuit of knowledge. It is not surprising that Tata has generously contributed to this initiative. It is a brand that is synonymous with quality products and ethical business. Investment here is something that we really appreciate. We are very grateful for the generous support."
About Tata in Africa
The Tata group began its relationship with the African continent in 1977 with the establishment of Tata Zambia. In 1994, the Tata group inaugurated Tata Africa Holdings in Johannesburg, South Africa, which now serves as the group's headquarters in the continent. Tata is present in over 15 African countries. It operates in engineering, services, telecommunications, information technology, chemicals and materials.
Today, Tata is a brand that's synonymous with quality products and ethical business operations in Africa. It is committed to its vision of building and sustaining relationships in Africa with cooperation and trust, creating employment opportunities and making its contribution to the social development of local communities. Tata companies in Africa promote the social and economic development of local communities through education, entrepreneurship and health initiatives.