Targeted talent empowered by BPSA sponsorship
- Wits University
Over 60 Wits students are able to pursue their ambitions due to sponsorship by the BPSA Education Foundation.
The scholarship recipients are graduates of the Targeting Talent Programme (TTP), a long-term Wits flagship programme which prepares academically talented high school learners who wish to study Science, Engineering, and Commerce at university. The Foundation has supported the scholarship programme at Wits since 2015.
The BPSA Education Foundation nurtures talented high school learners by sponsoring their tertiary studies and developing their employment and entrepreneurial skills.
At an orientation session for the scholarship recipients held on 2 February 2017, Wits Dean of Students, Professor Puleng Lenka-Bula said:
"You are among the very few people who have been bequeathed with this opportunity. Many people aspire to come, and may not have the cognitive abilities or the intellectual capabilities, to come to university. So the responsibility and the onus to do as best as you can is very important, because a lot more people would have loved to be sitting where you are sitting but are unable to. Aspire to excellence so you can be a resourceful citizen of the world."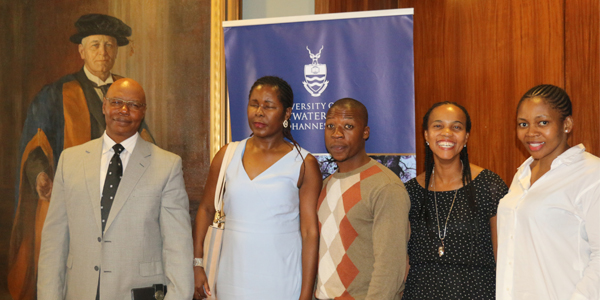 BPSA Trustee and award- winning journalist and presenter, Rhulani Baloyi advised the students to stay focused, as their excellent matric results would not determine their stay in the University and successful completion of their studies.
"You need to learn a new way of studying, a new way of committing yourself, a new way of doing things," said Baloyi, a Wits alumna. "Wits University is a very good place," she said, where students learn great life lessons.
"This is where our role in society is shaped. Besides your books, you are going to learn to accept people who think differently from you. You are going to learn that the world is not about South Africa, the world is not about Africa, but the world goes even beyond the planets that we live in. So you must open up your ears to hear, allow yourselves to read. Read as much as you can and allow yourself to receive information that you never thought you would come across."
Motukuane Mokoena, Chief Executive of the BPSA Education Foundation said at the event that the percentage of TTP graduates who matriculated with a bachelor's pass had increased.
According to Mokoena, 98% percent of the TTP graduates received a bachelor's pass in the matric results in 2017 and high quality results have been maintained through the years.
It has never dropped below 90% since I have been involved with the programme. This says something about how the programme selects talent – that it is indeed successful in selecting the right potential," said Mokoena.
He added that 91% of the first- year students BPSA funded in 2017 had progressed to second-year in 2018.
BPSA scholarship recipient, Nelson Sithole expressed his gratitude to BPSA. Sithole, who is currently pursuing an honours degree in Finance, shared his experience with new first-year students:
"The challenges are there, it is all about how you deal with them. Do the best that you can do because that is the only thing that you can do. I believe we all have the capacity to achieve. Use all the structures in the University. University is quite challenging, I won't lie, but with the right mind-set and right structures, you can conquer as well."
Sithole worked at BPSA during the December holidays and described the experience as enriching and valuable for his career.
"Now I don't only have mentors in academia, but also in the industry," he said.
The BPSA scholarship covers tuition, accommodation, books, laptops (introduced in 2018) for the first and second- year students, and a living allowance.