#GuptaLeaks team wins SA's biggest journalism award
- Wits University
The team that exposed the extent of state capture in South Africa has been awarded the country's biggest investigative journalism award.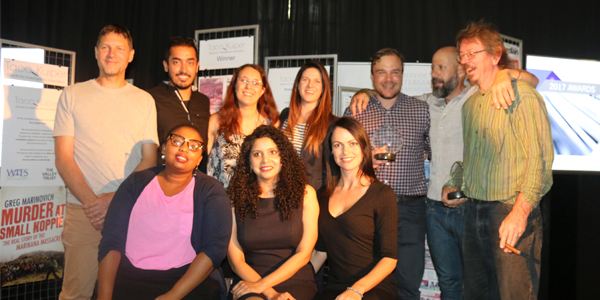 The team, comprising 19 journalists from AmaBhungane, the Daily Maverick and News24, won the 2017 Taco Kuiper Award for their excellent investigative journalism into the Gupta email leaks, also known as the #GuptaLeaks.
Judges commended the unique collaboration, which brought together a wealth of skills and experience.
"This unusual collaboration between three very different outlets brought together amaBhungane's investigative skills and experience, Daily Maverick's editing and online presentation skills and News24's reach and impact – a formidable combination," said the judges.
"They pieced together disparate pieces of information in a massive trove of emails to prove the case of state capture and find new links and evidence of how systemic this corruption was. It took highly skilled, meticulous and dedicated work to do this, and present it in a user-friendly manner. This story, together with other works by this team and others, has had remarkable, long-term and still unfolding impact on the politics of the country," the judges commended.
The team was awarded R200 000 for their work.
The runners up – Jacques Pauw, author of The President's Keepers, and Hennie van Vuuren who penned the book Apartheid Guns and Money – were awarded a joint prize of R100 000.
The judges also noted the range of topics entered, which included stories about Cape Town's organised crime; consumer and safety issues; farm labour conditions; youth alcohol abuse; the national lottery; meat sellers who faked sell-by-dates; pauper burials; and delayed health pay outs to former mineworkers.
Rana Ayyub, author of Gujarat Files: Anatomy of a Cover-Up delivered the keynote address. The Mumbai-based and multiple-award winning independent journalist shared details of her eight-month undercover work to reveal the complicity of prominent politicians in the 2002 Gujarat killings. Her reporting put an Indian Minister of Home Affairs in jail in 2010.
Ayyub urged fellow journalists to continue the pursuit of truth despite adversity.
About Taco Kuiper:
Taco Kuiper was a highly successful South African publisher who left a significant part of his estate to the promotion of investigative journalism. As a business journalist and publisher, Kuiper knew that exposing matters of public concern – which those scrutinized would not want to see disclosed – was an enterprise. As he himself did not shy away from taking on public institutions and profiteers of apartheid policy, he thought it important to foster and reward investigative journalism in South Africa.
It was for this reason that Kuiper, shortly before his death in September 2004, set up a fund for investigative journalism within The Valley Trust. The Trust has partnered with the Wits Journalism Programme to carry out Kuiper's wishes and to administer the Taco Kuiper Award and Fund.