Water wise learners
- Wits University
Gauteng grade 11 learners tackle SA's water crises.
Water scarcity is a growing local and global problem which requires expert solutions to the challenge.
The Wits Integrated Experience in Science and Commerce (WIESC) programme has challenged high school learners to find innovative solutions to address the water crisis in the country from a scientific, economic and management perspective.
The WIESC programme, which is in its third year running, is targeted at Grade 11 learners across Gauteng to expose them to the skills and knowledge needed for, and to create an awareness of the vast career opportunities within, the Science and Commerce Law and Management field.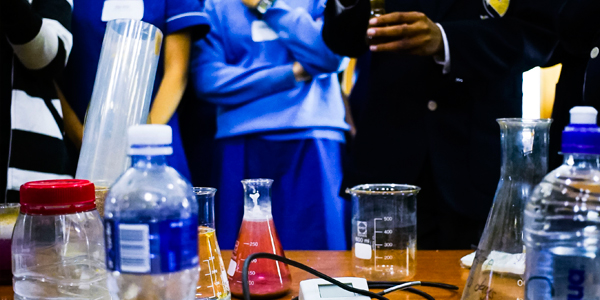 Inspired by the current water crisis in Cape Town, the 2018 theme for the WIESC programme is Water security – what needs to be done?"
As part of the WIESC assessment, learners are requested to prepare a 10 minute presentation to outline solutions to a future water crisis in South Africa that are scientifically and economically viable.
Integration of various study disciplines such as science and commerce, law and management is the essence of the programme.
"We hope to demonstrate to the learners the inter-related nature of different disciplines in science and the inter-related nature of science and commerce. We want the learners to realise that these inter-relationships are vital for solving big issues or problems," says Programme Coordinator of WIESC, Professor Gillian Drennan.
Professor Ebrahim Momoniat, Dean of the Faculty Sciences echoed the same remarks to learners at a welcome session on Friday, 23 February 2018.
"Everything is interrelated. You need skills in mathematics, chemistry. Someone who is strong in maths needs to understand biology to do good mathematics."
To give learners a broader context on the water crisis, Dr Mary Evans and Dr Kate Strachan from the School of Geography, Archaeology and Environmental Studies delivered a presentation on how climate change has affected water supply.
"Water is becoming a serious crisis. It is something that we need to start working on and thinking about. You need to start thinking about real world solutions to a real world problem," said Evans.
In South Africa, the water shortages experienced in Cape Town are a result of below average rainfall over the past few years. Although the city is surrounded by large amounts of water, an ocean, the water crisis still persists as the sea water is not drinkable. More options need to be explored to address water shortages, says Wits associate lecturer in the School of Geosciences, Khuliso Masindi.
Masindi, a trained hydrogeologist carried out experiments to improve the quality of acidic water from abandoned mines and sea water, in order to demonstrate to the learners that recycling waste water is one of the many solutions to water shortages. Treated water from the experiment was of good quality suitable for agricultural activities, and the heavy minerals separated are of economic value and could be sold for profit.
"Availability of freshwater is important for sustaining livelihoods and ensuring food security, therefore, it is important to efficiently use and recycle our water resources in order to meet future water demands."
Masindi is one of the Wits academics in the programme that the learners will partner with to process the data they collect as they attempt to find solutions for the water crisis. The learners will deliver their presentation in front of a panel of judges on 23 March 2018.