Wits Excellence Awarded
- Wits University
Several Witsies were recognised for their exceptional service to the University at the annual Vice-Chancellor's Awards.
The Awards were presented to Wits staff members for excellence in academic citizenship, teaching and learning, transformation and research.
The 2017 VC's Awards were held on Friday, 13 October at the Wits Club.
Speaking at the awards, Wits Vice-Chancellor and Principal Professor Adam Habib said "it has been a very a good year" for Wits.
"We have had a good year – good research, good teaching, but what we need to make sure we do is that we create an environment of experimentation where we experiment with our teaching."
Vice-Chancellor's Academic Citizenship Awards
The VC's Academic Citizenship Award was shared between Professor Ames Dhai and Bhekuyise Zungu.
Professor Dhai is the Director of the Steve Biko Centre for Bioethics in the School of Clinical Medicine in the Faculty of Health Sciences, a Centre which she founded in 2007. Her efforts in developing the Centre into an internationally renowned entity offering postgraduate programmes in Bioethics and Health Law were recognised. The Centre has been awarded the status of a World Medical Association Cooperating Centre and is also a South African unit of the UNESCO International Network in Bioethics.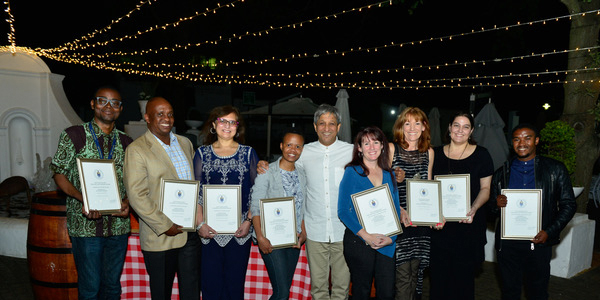 Professor Dhai is involved in several institutional activities including serving as the Co-Chair of the Human Research Ethics Committee (Medical) and actively promoting ethics in research in the Faculty. She also serves on several policy-making bodies in the country and served as the President of the South African Medical Association from 2013 to 2014. She is a consultant and expert advisor to the World Health Organization and is on the WHO African Advisory Committee for Health Research. Dhai was recognised for her contribution to Wits, South Africa and the world local and her immense commitment to ethics in healthcare.
"Bhekuyise Zungu was deemed a worthy candidate for the award since he had, over the past year, played an inestimable role in mitigating the ongoing student tensions in the Wits School of Education," said Deputy Vice-Chancellor: Academic, Professor Andrew Crouch who presented the Award to Zungu.
Responsible for managing student affairs, Zungu has exercised his role far beyond the expectations of his academic rank and responsibilities. As a lecturer, he has put attempted to resolve tense situations peacefully using dialogue. He has always acted with remarkable fortitude despite the difficulty of the task. Zungu was honoured with the Vice-Chancellor's Academic Citizenship Award for 2017 for going beyond the call of duty.
Vice-Chancellor's Teaching and Learning Award: Team and Individual
The Wits eFUNDANATHI Team, comprising Paula Barnard, Janine van der Linde, Lebo Bogoshi and Phiwe Dlamini was presented with the Vice-Chancellor's Teaching and Learning Team Award and the Vice-Chancellor's Teaching and Learning Individual Award to Dr Ufuoma Akpojivi.
The eFUNDANATHI i eLearningTeam based in the School of Therapeutic Sciences was acknowledged for its pioneering, excellent work that has had a major impact on teaching and learning. The team has undertaken the responsibility for introducing and orientating first year undergraduate and postgraduate students to the University's online platforms in order to ensure basic digital literacy amongst students. The team trains staff and students on the use and integration of blended online learning strategies andtools, including the use of virtual learning environments to manage course content, online examinations and plagiarism scanning. It also extends to curriculum redesign at a modular, course and degree level. The team further displayed their collaboration and support of other team members
Dr Akpojivi from the Media Studies Department was recognised for his significant contribution towards enhancing the teaching and learning experience to enable student development and growth. "The results of the course and lecturer evaluation conducted by the Centre for Learning and Teaching Development reflected that Dr Akpojivi had significantly exceeded the University's average assessment for teaching and learning," said Crouch.
Dr Akpojivi is also actively involved in designing and redesigning courses whilst genuinely caring for the welfare of students. "His commitment to excellent pedagogical practice combined with an interest in transformation is impressive," added Crouch.
Vice-Chancellors Transformation Award
Nontsikelelo Mapukata, from the School of Clinical Medicine, Faculty of Health Sciences received the Vice-Chancellors Transformation Award. Mapukata has served as a leader and inspiration to many of her colleagues, always taking an interest in matters relating to both staff and students. "The Vice-Chancellors Transformation Award, is not an award which is given only to those people who work in the diversification and the demography of the University. It also goes to people who transform the core activities that identify the University – so people who transform teaching and learning, where people do research nurturing a new generation of academics, improving the social and interpersonal relationships in the University and related matters," said Vice-Principal, Professor Tawana Kupe, who received the award in her absence.
Mapukata has undertaken numerous initiatives, which have resulted in long-term benefits especially for students from disadvantaged backgrounds and for Wits' community engagement strategies. She has made major transformative contributions through a wide range of activities including support for student academic performance in the Faculty and residences, through mobilising financial aid for students in need and offering extended academic support to secondary school students. In particular, her continuous initiatives in the Faculty of Health Sciences and collaborations with other faculties have been key drivers for transformation.
Besides serving as a member of the Faculty of Health Sciences Transformation Committee, she is a member of numerous other committees in which she incessantly represents those who would otherwise be 'voiceless'. Mapukata was also a member of the Vice-Chancellor's Task Team that reviewed that MBBCh admissions policy. Her advocacy for rural health saw the University making an unprecedented commitment for a 20% representation of students from rural communities in the health sciences for first year intakes.
Vice-Chancellor's Research Award
Deputy Vice-Chancellor: Research and Postgraduate Affairs, Professor Zeblon Vilakazi presented the The 2017 Vice-Chancellors Award to Professor Caroline Tiemessen.
The purpose of the Vice-Chancellor's Research Award is to encourage and stimulate high quality research with impact. The annual Award is made in response to an application process open to all full-time Wits academics between the ages of 43 and 65.
Professor Tiemessen holds a joint appointment as Research Professor at Wits and as Head of Cell Biology in the Centre for HIV and STIs in the National Institute for Communicable Diseases. In 2005 she was awarded the prestigious Wellcome Trust International Senior Research Fellowship for five years to study protective immunity in the context of maternal-infant HIV-1 transmission. In 2013 she was awarded the DST-NRF Research Chair of HIV Vaccine Translational Research in the School of Pathology, Faculty of Health Sciences, and was appointed a member of the Academy of Science of South Africa. Her research interests include the study of HIV vaccines and paediatric and adult HIV cure, with a major focus on the study of natural resistance models for identifying and understanding correlates of protection.
"The Award was provided for sustained excellence over time, but one of her recent outstanding achievements was her leadership of a key laboratory study on a case of an HIV-infected South African child in remission," said Vilakazi.
This work was a highlight at the 9th International Aids Society Conference on HIV Science, held in Paris in July 2017. The child was born to an HIV-infected mother and was started on antiretroviral drugs at 8.5 weeks of age. The treatment was stopped after 40 weeks as part of a controlled clinical trial (the CHER trial). "Now, more than 8.5 years later the virus has not rebounded. This is groundbreaking,"added Vilakazi.