Trade is good for development
- Wits University
The European Union and South Africa are forging stronger partnerships that promote fair trade and inclusive growth.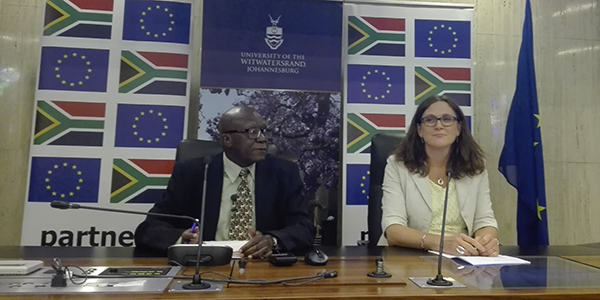 This is according to the EU Trade Commissioner Cecilia Malstrom who presented a talk entitled Global Trade: Path to shared Prosperity at Wits University.
2017 marks ten years of strategic partnership between the EU and South Africa; and one year since the signing of the SADC-EU Economic Partnership Agreement.
Trade between developed and developing countries is often viewed with scepticism and is believed to mostly to favour powerful countries, however, Malstrom painted a positive picture on the importance of global trade.
She argued that global trade has helped to connect humanity and has resulted in many tangible benefits.
"No country has been able to develop without trade," she stated.
"In the modern global economy, trade is essential for growth, jobs and competitiveness, and the EU is committed to maintaining an open and rules-based trading system."
South Africa exports 40% of its goods to European countries, and 77% of SA's foreign direct investment comes from the EU, stated Malstrom.
The agricultural sector has been the biggest beneficiary of the partnership agreements between the two countries, she said.
The talk attracted a large number of Wits students and aspirant policymakers, international trade lawyers and economists.
Audience questions varied from tax evasion, geopolitics, trade tariffs, youth access to markets, and the impact of digital currencies and rapid technological advancements.
The discussion was moderated by Professor Gilbert Khadiagala, Head of the Department of International Relations at Wits.