Nobel laureate and human rights attorney to address world's muckrakers
- Wits University
A Nobel Prize-winning economist and a human rights attorney are keynote speakers at the Global Investigative Journalism Conference at Wits in November.
Nobel Prize-winning economist Joseph Stiglitz and human rights attorney, Beatrice Mtetwa will speak at the conference (#GIJC17) co-hosted by Wits Journalism from 16-19 November.
Professor Joseph Stiglitz is widely considered one of the world's most influential economists. An expert on development and inequality, he is a professor at Columbia University, former chief economist at the World Bank, and a cabinet member of U.S. President Bill Clinton's administration. In 2011, TIME named Stiglitz one of the 100 most influential people in the world. He is also a strong advocate of watchdog reporting.
"Investigative journalism is absolutely essential," says Stiglitz. "Together with civil society and an active citizenry, it is an essential part of a well-functioning democracy."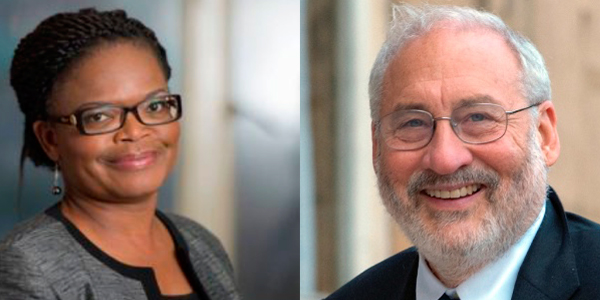 The New York Times called Mtetwa Zimbabwe's top human rights attorney for her work protecting journalists in the country. Since she started practising in 1990, she has been harassed by the Zimbabwean government through arrests, prosecution and physical assaults. Among her many accolades, Mtetwa has been awarded by the Committee to Protect Journalists, the Law Society of England and Wales and the American Bar Association.

Stiglitz will speak at the evening banquet at the conference on November 18, while Mtetwa will deliver the Carlos Cardoso Memorial Lecture on November 16.
Stiglitz and Mtetwa join the world's top investigative journalists at a time of unprecedented attacks on the news media worldwide. This will be the tenth Global Investigative Journalism Conference and the largest-ever gathering of investigative reporters in Africa. The event, held at the University of the Witwatersrand, is co-hosted by the Wits Journalism department and the Global Investigative Journalism Network, and this year includes the annual African Investigative Journalism Conference.
Confirmed speakers include a half-dozen Pulitzer Prize winners, including ICIJ's Panama Papers team, data journalism pioneers, specialists in tracking dirty money and looted wealth and experts on security and media law. Among those coming are journalists from South Africa's amaBhungane, Peru's Ojo Publico, India's Centre for Investigative Journalism, Columbia University, Philippines' Rappler, The New York Times, the Financial Times, AP, the BBC, The Guardian and Arab Reporters for Investigative Journalism.

More than 120 panels are planned, including sessions on corruption, cross-border reporting, online search strategies and data journalism, as well as workshops on mobile journalism, security and funding. There will be tracks on business investigations, new journalism models, security, and teaching.