Learners display their creativity with strong materials
- Wits University
Creativity prevailed among Grade 10 learners at the Material Science Poster Competition this year.
An initiative of the DST-NRF Centre of Excellence in Strong Materials (CoE-SM) at Wits, the competition targets Grade 10 learners from Gauteng schools. It aims to attract more learners to the field of Material Sciences whilst developing learners' knowledge of the properties and applications of strong materials.
Professor Lesley Cornish, Director of the CoE-SM addressed the competition winners and their teachers at the prize-giving ceremony held at the Wits Club on 12 October 2017.
"Never lose that spark of creativity because that is what is going to push you. It is a competitive world out there and you probably already found that. What you need to have is something that is different. You also need to work hard, because very few people get away with anything and get anywhere much without working hard."
Ammaara Ahmed from Parktown Girls High School won first prize for her poster: A Month in the Study of Amorphous Metal. She won R15 000 in cash for her school and R1000 for herself. Her teachers, Tebogo Maetane and Karen Field, who accompanied her along with other learners from her school, said that the money will be used to buy equipment for the school's new science lab.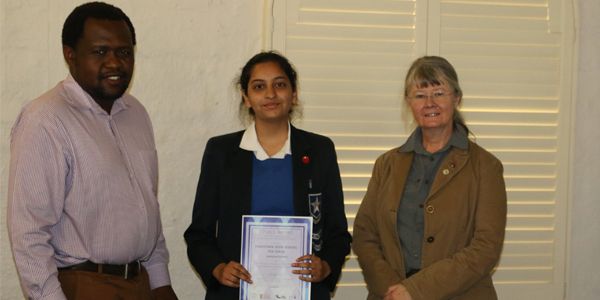 The second prize, worth R10 000 was jointly awarded to Britney Carstens, Rebecca Oosthuizen and
Duran Reddy from Hyde Park High School, while the third prize, an amount of R5000 was awarded to Rebecca Groome and Rachael Humphries from King's School Robin Hill.
Additional prizes were awarded in the categories of Creative Presentation, Excellent Organisation of Information, Good Scientific Comprehension, and Presenting New and Exciting Materials. The teachers from the winning school in these categories each received a gift voucher to the value of R500 and the winning learner/s a voucher of R350.
Professor Herman Potgieter, Head of the School of Chemical and Metallurgical Engineering and guest speaker said that the competition was the best way for the learners to learn about materials. He encouraged the learners to consider a degree in metallurgical and material engineering, where they will be able to expand their knowledge on materials.
"I would like to encourage you to consider that as one of your career choices in the future. Unfortunately, if you look at the history of mankind, most of the developments of material science came as a result of war. I sincerely hope that the 21st century is not going to continue with this tradition, but that we rather grow and train a new generation of material scientists that can take us forward to improve the life quality of everybody by peacefully pursuing research and new developments in materials."
The competition was coordinated by Professor Deena Naidoo from the School of Physics who was assisted by Casey Sparkes and Jacqui Jacobs from the (CoE-SM)