Wits and government tackle student accommodation crisis
- Wits University
A residence for Wits students who require temporary emergency accommodation has been made available to the University by the Gauteng Provincial Government.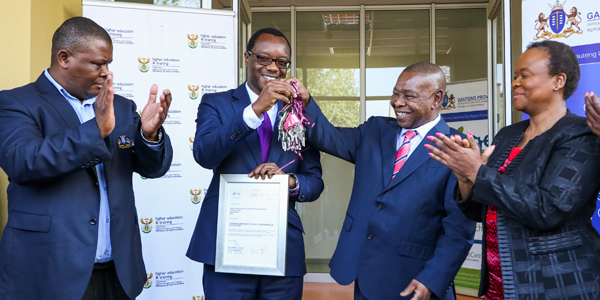 The refurbished Witwaters residence in Block D of the Charlotte Maxeke Residence Complex was handed over to Wits University at a ceremony at the residence this morning attended by Dr Blade Nzimande, the Minister of Higher Education and Training.
According to the GPG MEC for Infrastructure Development, Mr Jacob Mamabolo, there is a long-term strategy in place through which disused buildings owned by government will be made available for redevelopment and renovation, and which could be transformed into suitable student accommodation. "We are committed to working with universities in the province in order to tackle the challenges around accommodation," he said.
Dr Gwen Ramokgopa, the MEC for Health in the province, emphasised the need for more health professionals in the public healthcare system. "We are pleased to provide housing for students, albeit in the short-term, in order to create an environment in which students can excel academically," she said.
The Vice-Principal of the University of the Witwatersrand, Professor Tawana Kupe stated that there were three issues facing students at the moment – access to higher education (fees), accommodation and inadequate transport systems. "Wits has about 6 150 campus beds available for students, but we would need to double our beds overnight to meet the full demand. If we had to undertake construction from scratch it would cost the University in the region of R3 billion over several years, which is not a feasible solution," he said. "We are thus extremely pleased to hear that the Gauteng Provincial Government has a long-term plan in place to address some of these challenges. We are committed to working with government at all levels, the private sector and other social actors in order to collectively address these challenges." Read the full text of his remarks.
Dr Nzimande indicated that the shortage of student housing was due to the phenomenal increase in the number of students accessing higher education in recent years. "We currently have over one million students in the higher education system of whom the majority are African female," he said. "Take Wits for example, where student numbers increased from 19 000 in 1999 to about 37 000 today, resulting in a major shortage in student housing. We commend the efforts of the GPG and the University and their efforts to work together to roll-out a long-term plan in this regard."
The Dean of Students, Dr Puleng LenkaBula welcomed the new accommodation. Through her Division, it is envisaged that students who require emergency accommodation will start occupying the building as fromTuesday, 12 September 2017.
"We are elated about the partnership between Wits University, the City and the Gauteng provincial government and the increased availability of temporary and emergency accommodation in support of students access, wellbeing and academic success," she said.
Mr Rob Sharman, the Head of Campus Housing and Residence Life, commented: "I have long felt that the Witwaters building at the CMJ Hospital would be ideal for our students, and although this is only a 3-month lease, I do hope that the MEC and the Gauteng Department of Infrastructural Development will facilitate the extension of the lease so that we can add the building's 330 bedrooms to our regular University stock, thereby making a substantial inroad into the housing backlog for Wits students."