Robert Sobukwe immortalised at Wits
- Wits University
The University of the Witwatersrand has officially renamed Central Block to Robert Sobukwe Block.
A plaque of the renaming of Central Block to Robert Sobukwe Block was unveiled yesterday, 18 September 2017 by Sobukwe's son, Dini Sobukwe and Wits Chancellor, Justice Dikgang Moseneke.
The renaming commemorated Sobukwe's service to the University and his contribution to fighting apartheid. Sobukwe, an intellectual of Pan-Africanism, founder and first president of the Pan Africanist Congress was celebrated for his role in initiating and leading the anti-pass law protests of 21 March 1960.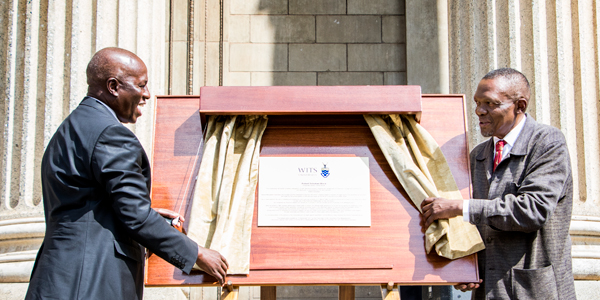 Wits Vice-Principal, Professor Tawana Kupe, who presided over the ceremony alongside Moseneke, says that the renaming is befitting for Sobukwe, who was a noble individual with an unrelenting spirit.
"Robert Mangaliso Sobukwe is one of the most illustrious Africans ever to be born on our continent. He was an academic, a thinker, a philosopher and a tireless, selfless, dedicated and resilient fighter for freedom of the African people. For all the injustices and calculated sustained and cruel assaults on his human dignity, he responded by affirming the humanity of all in everything he did," said Kupe.
Dini Sobukwe expressed his gratitude for the honour the University gave his father, who was a lecturer in African Studies at Wits, and spoke about the impact his father made in the lives of his students.
"Sobukwe taught here and he enjoyed his place very much. He had a lot of fun here and there are a lot of people who still call, who were his students. They write letters to say he was a friend, a teacher and a mentor. I would like to say most of his students were white and they still write and say he was a man who made a great contribution in their lives, for them to see this country in a different way. We would like to thank you for making this day possible. This place energised him, it made him know what it is that he had wanted to do with his life."
In his keynote address, Moseneke paid tribute to Sobukwe for his tenacity and selflessness in fight, and described him as compatriot who "left deep footprints of our uprising".
"Every nation, every people, from time to time, yields from amongst its very own a truly courageous, selfless and visionary patriot who stands tall and apart from the rest. As she or he passes on, the rest of us would know that it was a life well lived. It was a life worthy of celebration. We want to remember great lives for many reasons. First, they are beacons and signposts of public history. Great lives light up the collective path we have travelled. They locate us within our past and shared experiences," said Moseneke. "There is another forward-looking reason for celebrating. From their lives, we hope to learn how to live our own lives. We call to memory their visionary and selfless action in order to gird our loins for the difficult task of creating and re-imagining our world. We hope to extract from their brave deeds, those abiding values of how best to accomplish present day challenges."
David Manabile, Wits SRC President said that they "are very honoured as the SRC that the Pan African Student Movement of Azania (PASMA) tabled such a motion for the celebration and renaming of a building after an icon such as Mangaliso Robert Sobukwe".
"We must learn and embody what Sobukwe stood for," he added.
Speaking on Sobukwe's fearless fight against apartheid, PASMA representative, Phyllia Ngoatje said Sobukwe "can be said to be the most formidable opponent to the apartheid system".
"Without his revolutionary zeal, unshakeable dedication to the struggle, and the conviction of his beliefs, it is unlikely that apartheid would have ended and collapsed like it did."
Quoting Sobukwe, another PASMA representative, Musa Sithole added: "You will not call off the struggle until the demands are met".
"Therefore, it remains our revolutionary duty to take the struggle that he died for to its logical conclusion," said Sithole.
About Robert Sobukwe
Robert Sobukwe became a political activist at Fort Hare in the late 1940s and in the 1950s became one of the foremost intellectuals of Pan-Africanism. He was a lecturer in African Studies at the University of the Witwatersrand, where he also completed an Honours degree. He fought for the emancipation of Africans and remains one of those who gave up their lives for a just cause without being adequately recognised. After his arrest on 21 March 1960, Sobukwe was sentenced to three years in prison. He refused legal help, and would not appeal the sentence, on the grounds that the court was not a court of fair and equal law and justice. Sobukwe was considered such a threat to the apartheid regime that a special law was passed allowing them to arbitrarily extend his detention. The Sobukwe Clause, as it became known, was only ever applied to Robert Sobukwe, and kept him in prison on Robben Island, where he was isolated from other political prisoners, for a full nine years. He completed a degree in economics during his time on Robben Island. After his release in 1969, he was banished to Kimberley and kept under house arrest. During his house arrest, Sobukwe completed a law degree and was eventually permitted to open a law firm three years before his passing in 1978.