Wits hosts top future Witsies
- Wits University
Wits Vice-Chancellor and Principal, Professor Adam Habib has urged top matric learners to think deeply about their education and their future academic home.
The top applicants for 2018 visited Wits University on Saturday, 19 August 2017, for a first-hand experience of their future home.
Descending from all parts of South Africa, the learners were accompanied by their parents and guardians to the 4th annual VC's Top 100 event, coordinated by the Wits School's Liaison Team. The day included one-on-one talks with Deans and Heads of Schools, current and former Wits student leaders as well as a tour of the University's expansive campus and sites of cutting edge research.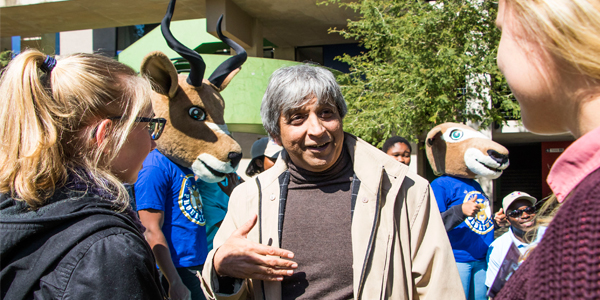 Habib told the future Witsies that the academic offering, the reputation of the institution and its research output are key factors that need to be considered when choosing a University.
"It's an academic question and it needs to be considered in relation to your career prospects. Make a choice based on what you think this institution will do for your future and your professional career."
Annually, Wits University provides full bursaries to top first year students. The scholarships are renewable for each year of the first undergraduate degree, provided that academic performance is of a high standard.
The Grade 12s were captivated by the adventures of Paul Ndiweni, a Wits LLB graduate and former Chairperson of the Wits Sport Council. As a highly ranked Wits player, Ndiweni lauded the support Wits provides to students who want to enjoy their academic and sport talent.
"There are no limits to what one can achieve at the University," said Ndiweni.
Chemical Engineering masters student, Muimeleli Mutangwa, had parents and learners at the edge of their seats as he regaled them about his life. ,
Mutangwa, a boy from rural Limpopo found and experienced many passions at Wits. He took advantage of all the student development activities at Wits. His achievements include representing SA in international Martial Arts tournament, using concepts from his engineering studies to run his business Tailor Klinik. He is also a poet and runs a book publishing business.
"Wits taught me I can be anything," said Mutangwa on his experiences as he inspired future Witsies to dream and pursue their ambitions. He is in the process of registering for his PhD studies in Chemical Engineering.