Sibanye reaffirms commitment to education
- Wits University
Sibanye, a top ten global gold mining company has extended its partnership with Wits by investing R15 million into the Wits School of Mining Engineering.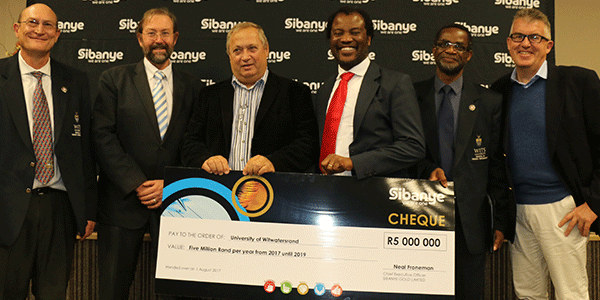 The funds will be paid annually in tranches of R5 million over three years (2017 – 2019) to strengthen the Digital Mining Laboratory (affectionately known as DigiMine), support the establishment of the Chair in Mining Automation, student bursaries, laboratory-enhancements and enabling strategic research into the mine of the future.
The mining industry is the backbone of the South African economy and the sector requires relevant, new skills and specialised knowledge as it moves into the fourth industrial revolution.
"South Africa remains rich in resources. However, it is a reality that these resources will only be brought to book through significant technological development and changes in mining methodology. As an industry we are highly dependent on skilled labour, engineers and technicians and these come from universities. Consequently, we need to create the platform for greater innovation through expanded research and education by leading institutions such as Wits," said Neal Froneman, CEO of Sibanye and Wits alumnus at the cheque handover which took place at the Sibanye Academy.
Froneman stressed the importance of funding that will enable access to deep reserves and improve mine safety and sustainability.
The Chair in Mining Automation in DigiMine will draw together researchers from diverse disciplines to meet the challenges of real mining problems and will also ensure that the curriculum of mining engineers is adapted appropriately for 21st century South African mining operations. The current DigiMine themes are Communication technologies for the underground environment; Underground surveying, mapping and navigation technologies; Health, safety and security technologies; Information technology and System integration for Visualization; and Real time Mine Information Modeling for Smart Economics. Each theme provide opportunities for postgraduate research, with some projects working on world-first technologies.
Critically, the funds will support an essentially underfunded area in higher education – that of postgraduate study, in addition to undergraduate support and capital projects.
"Postgraduate students, more often than not become captains of industry or at least influencers within their chosen fields of study, be it through dedication to academic life or transfer of knowledge to marketplace," said Professor Zeblon Vilakazi, Deputy Vice-Chancellor: Research and Postgraduate affairs.
The donation also makes provision for capital projects through a R1 million per annum allocation for us at the discretion of the Vice-Chancellor.
"We recognise that it is equally important to provide for the growth and improvement of university facilities which will best equip the teaching staff with the best technology needed to deliver world class teaching and establish the capacity to increase university involvement in industry research," said Froneman.
The partnership between Sibanye and the School, which began in 2014, has provided financial support to 53 needy, deserving students in their early years of study. Over the past three years the company has also offered vacation work opportunities to 248 students from second year onwards. This is a massive investment to the South African economy because without providing them with this opportunity, students cannot graduate – even if they pass all their academic subjects
In addition to Wits, Sibanye also supports the University of Johannesburg.