Moral constitution and dissent
- Wits University
SA's popular dissenters strive to uphold their Constitutional mandates and moral principles.
South Africans have expressed their impassioned dissent over the policies and operations of their political parties and institutions this year.
Issues of dissent, behavior and loyalty in the country were the focus of this year's Ruth First Memorial Roundtable. The roundtable marked the 35th anniversary of the death of Ruth First, an anti-apartheid activist, academic and journalist who was assassinated on 17 August 1982.
ANC Member of Parliament, Dr Makhosi Khoza, who was one of the speakers at the roundtable, was axed by her party from her position as Chairperson of the Portfolio Committee on Public Service and Administration shortly before the roundtable proceeded.
Media personality, Redi Tlhabi, who chaired the roundtable, highlighted the irony of Khoza's axing coinciding with the anniversary of First's death, stating that Makhosi was fired for living up to the values of First:
"On the 35th anniversary of the passing of Ruth First, someone who speaks truth to power – and happens to be a woman –gets fired for speaking truth to power, for doing the very thing that defines the life of Ruth First."
Khoza was chastised and relieved of her duties because of her outspoken criticism of her party, which she joined when she was 12 years old.
Her constitutional loyalty and firm belief to deliver on the ANC's promise to the people of SA as enshrined in its mission, is what drives her.
"When the ANC was established in 1912, it was defined as the people's parliament. How ironic that today we are choosing kleptocracy and not democracy. Unfortunately for me, today I draw inspiration from women of substance and phenomenal women like Ruth First – women who spoke truth to power."
Khoza says that South Africa is entering the next phase of struggle, which is to defend the Constitution and make sure it is implemented to build the country.
"There is something that I call blind brand syndrome – where you follow the brand. I know that the thing that I joined is no longer there, but that liberation struggle brand is still with me and I think that we all have to go through some healing process to understand that we now need a new South Africap; a South Africa that we collectively crafted, designed in 1996 when we adopted the Constitution of the republic, that has no colour; a Constitution that believed in equality before the law and the Constitution that was actually implementing the Freedom Charter of 1995."
Despite the controversies clouding her and the disputes between her and her party, she remains optimistic about the future of the country.
"I will do my part as a South African. I believe in the new South Africa and our Constitution, our collective moral signature as a country."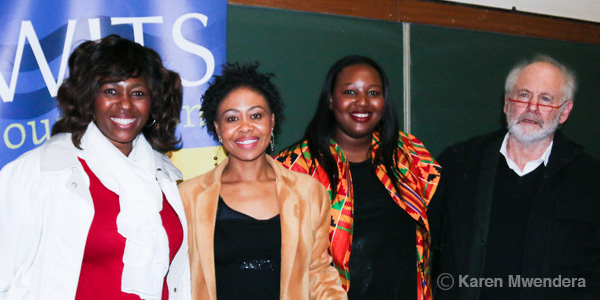 Loyalty and Ethical Leadership
Ruth First panelist, Thandeka Gqubule shared her issues on dissent and defiance of censorship at the South African Broadcasting Corporation (SABC).
Gqubule, freedom of expression activist and author of Whispering Truth to Power: The Story of Thuli Madonsela was one of the eight people sacked by the SABC for standing against censorship and fighting for transparency.
Gqubule says her dissent over the broadcaster's censorship was fueled by her integrity and the core principles of ethical journalism.
She began her address by paying tribute to other female whistle-blowers and dissenters. "As a conscientious citizen, I say I am Makhosi Khosa, I am Suna Venter, I am SABC 8."
Gqubule believes that she and the other #SABC8 dissenters were not wrong in dissenting but sought to hold up the SABC's Constitutional mandate.
"Within the national public broadcaster, we see ourselves having signed up to a national obligation to allow universal access to this powerful tool of communication."
Challenging the status quo
Panelist Mbali Ntuli, former youth leader of the Democratic Alliance and Member of Parliament for the party in KwaZulu Natal publicly lamented her party's inconsistencies in dealing with racism cases, amongst other issues. Ntuli was castigated by her party for "liking" a social media comment that stated that party leader, Hellen Zille's controversial tweets were "racist".
"I felt it was the right thing to call my party out on this really archaic policy [social media policy] that they have,- which, sure, may be good for brand image. [But] If you have people who are problematic, they should be dealt with. You can't expect that people are not going to say what they want. We should be able to challenge those things. We should be able to be critical without having our parties thinking that we are hating them."
Ntuli says she stands on principle, especially when her party acts contrary to what it claims to stand for.
"Political parties are very comfortable for you to be a dissenting voice as long as you're not within their party. So the ANC praises me, the EFF loves me because sometimes I say things – not to cause havoc, but because, principally they must be said –when my party does things that I believe are against the ethos and the principles of what we stand for."
"We need authentic leaders and we need people who are going to challenge the status quo," she adds.
Not a dissenter: Dissenting for purpose
Raymond Suttner, Emeritus Professor at the University of South Africa, took a different approach to dissent, stating that he does identify as a dissenter.
"I don't like this word 'dissident'. I wasn't dissenting," says Suttner of his anti-apartheid activism.
"I was also like Ruth First, Nelson Mandela and others. I was advancing a new democratic consensus, which we are trying to defend today. So we are dissenting in one sense, but we are also representing what was agreed; what corresponds to the aspirations of most people in South Africa."
Suttner, who was part of the ANC and SACP's underground operations during apartheid, cut ties with the parties when he felt they no longer represented the oppressed.
"Around 12 years ago, I found that the direction of the organisation in which I associated myself, constituted repudiation of the link that they had forged with the oppressed people of South Africa – and I broke with first the SACP and then the ANC for the same reasons as I joined them."
Suttner believes that silence is sometimes is golden when grappling with issues of dissent.
"Sometimes the most courageous thing is not to speak out, to hold your peace, to listen. We are all dissenting from the current powers, but I see us as reaffirming the democratic consensus which Ruth Fist gave her life for."