I am a Witsie – New insourced workers come on board
- Wits University
Cheers of jubilance reverberated through the Matrix and Reith Hall dining halls this week as the University welcomed new Witsies.
The third cohort of insourced workers joined Wits as new staff members on 1 July, with some excitingly shouting "I am a Witsie!".
More than 1000 workers were insourced to the Protection Services and Catering Departments at Wits this week. This is the third cohort of workers to be insourced at Wits this year. The first two groups were onboarded on 1 January and 1 March respectively.
The insourcing process has been long but equally rewarding and successful.
"It has been a long walk to where you are today. They usually say save the best for last," said Fana Sibanyoni, Chief Operating Officer during his welcoming address to the workers who patiently waited as their peers officially became Witsies early in the year.
The services rendered by the new Witsies are crucial to the University. Protection Services maintain safety and security on campus while those in the Catering Division are responsible for the nutritional needs of students at the Wits dining halls.
Sibanyoni, urged staff members to treat students like their own, and encouraged them to continue working hard and to be resilient especially during times of turmoil such as student protests.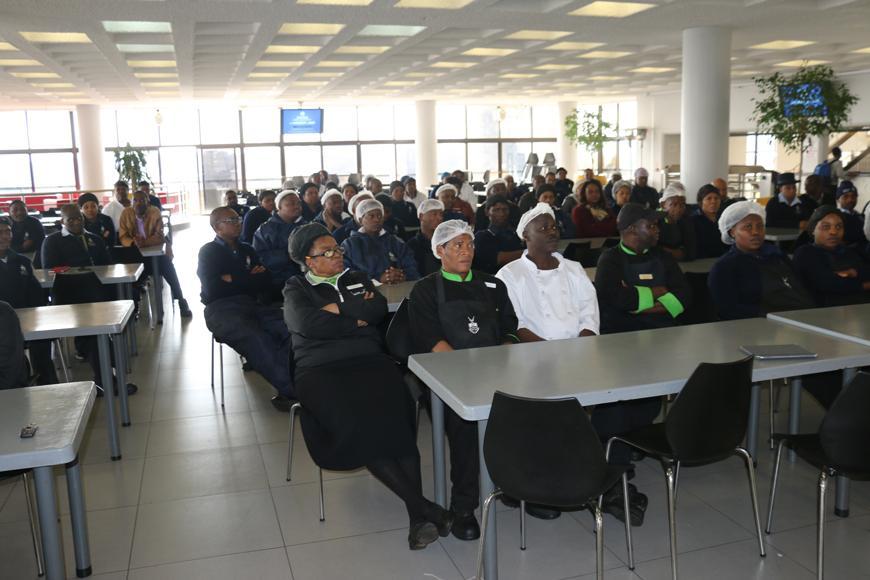 "There is one common thing about our students, izingane zethu (they are our children). We must try to educate each other so that they are able to respect us as their parents – that's what they call us when they protest. We need to prove that we can behave like parents and upfold our duty to guide, feed and protect them."
Protection Services worker representative, Lebohang Rapeti, echoed Sibanyoni's remarks, urging his colleagues to balance their rights and responsibilities now that they have reached their destination.
"Can we please continue working in the same manner we worked from the beginning! We must improve on what we have been doing," he said. "We are happy to be part of the Wits now, and we promise that we will work hard and protect our kids."
Busi Nyembe from the Catering Division said that being insourced will open doors of opportunities for her.
"We are happy that we are part of the Wits family now. It means a lot to us. We will now be able to work with other staff members as we are all part of the Services Department. Before being insourced, we only worked because we had to provide for our families, but it is different now because we are under Wits."
She hopes to complete her matric next year and further her education with Wits.
Her colleague, 25-year-old Vusikaya Gogela also has the same aspirations.
"I am still young. Now that I am at Wits, there are plenty of opportunities for me. I will also be able to further my studies, get a diploma and a Master's degree."
Many extended their gratitude to the students, who supported their call to be insourced during the Fees Must Fall protests .
Read: Wits welcomes insourced workers