Statement from Wits University on the passing of Lord Joel Joffe
- Wits University
Wits University mourns the passing of one of its most distinguished graduates, Lord Joel Joffe CBE.
Described by Nelson Mandela and his co-accused as "the General behind the scenes of our defence" in the Rivonia trial, Joffe, Wits alumnus and benefactor, philanthropist, and human rights lawyer, died at home in Liddington, England, on Sunday 18 June 2017 after a short illness. He was 85.
Joffe continued to be an indefatigable voice against injustice of many kinds. His life's work never wavered from defending victims, helping the poor and highlighting the sacrifices made by others in the fight for justice. He became prominent globally as international chairman of Oxfam and later in the UK as a Labour peer; his first distinction, however, was his courageous work as a human rights lawyer in Johannesburg.
Joel Goodman Joffe was born in South Africa on 12 May 1932. He held BCom (1952) and LLB (1955) degrees from Wits, as well as an Honorary LLD conferred in 2001. His independence of mind was evident from an early age. In a 2016 article, Joffe is described "as having …. developed a deep distaste for arbitrary authority" early in life, a quality that never Ieft him (Nigel Tyrie, 2016).
After graduating, Joffe practised as an attorney and also as an advocate at the Johannesburg Bar. Following Sharpeville in 1961 he was approached increasingly to take cases involving political activists. Deeply troubled about race discrimination in South Africa, he applied to emigrate to Australia. But, in 1963, when attorney James Kantor was arrested, Joffe took over his practice and became the defence attorney in the Rivonia Trial, in which several leaders of the ANC, including Nelson Mandela, Walter Sisulu and Ahmed Kathrada were charged with treason.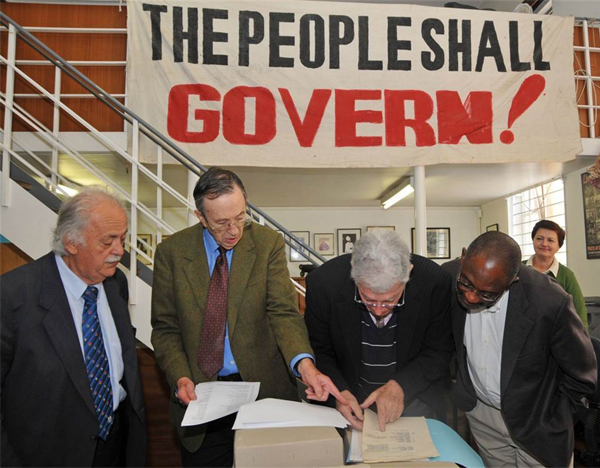 Joffe did not regard taking on this work as an act of courage. "For me it was about saving the lives of these wonderful people," Joffe recalled on Desert Island Discs. "But that was not the main objective of Nelson Mandela and his colleagues… They wanted to put the Government [of South Africa] in the dock. The nine members of the ANC were the finest people I had ever met – such courage, such integrity, so committed… They were in it for the people. It was a great privilege to defend them."
Writing from Pretoria prison on 11 May 1964, the nine Rivonia accused, however, praised his courage. They described Joffe as "this quiet, courageous man", of "rare courage and real devotion to the cause of justice", who was "the General behind the scenes of our defence"; one of the nine signatories of that letter, Nelson Mandela, later echoed that last statement in his book, Long Walk to Freedom.
Throughout the stressful and eventful months of the trial, Joffe took extraordinary care not only of the accused but of their families. His support and personal generosity towards them was unstinting – as stated in the letter of 11 May 1964.
After the trial, Joffe defended many others accused of political offences. His passport was confiscated and he was harassed by police. Australia withdrew its immigration offer. Eventually, he and his young family were forced to leave South Africa for England, he on a one-way "exit permit".
In London he joined Abbey Life Assurance, a public company in which two other distinguished Wits law alumni, Sir Sydney Lipworth and Sir Mark Weinberg, had become significant figures. By 1971, Joffe was Deputy Chair of Allied Dunbar Assurance. He left Allied Dunbar in 1991 and from 1992 campaigned to protect consumers from the excesses of the financial service industry. His campaign significantly improved consumer protection in the UK.
Joffe retained ties with South Africa and his engagement with his homeland intensified after democratization in 1994. He was special advisor to the former Minister of Transport, Mac Maharaj, 1997-1998.
Joffe was a major benefactor of the Wits Law School Endowment Appeal and to date, through his family trust, is amongst the University's most generous individual donors. He contributed a substantial donation to the establishment of a Chair in memory of Bram Fischer, with the funds later being used for other projects to commemorate the 'Afrikaner revolutionary' and advocate who was the leading defence advocate of the Rivonia Trial. Joffe dedicated his book The State vs Nelson Mandela , "[t]o Bram Fischer Q.C. who saved the lives of Nelson Mandela and his co-accused, but sacrificed his own life in the fight for freedom." Joffe further honoured Fischer in his speech at Wits on 26 March 2015 when the University conferred a posthumous honorary degree on Fischer.
An extremely diffident man, Joffe avoided self-advancement and rejected several honours which sought to acknowledge his philanthropy and charitable work, which spanned decades. He was awarded CBE (Commander of the Most Excellent Order of the British Empire) in 1999 and elevated to the peerage in the House of Lords in 2000. In this capacity he was able to continue championing causes along the philanthropic principles that governed his life. These included his commitment to campaigning for terminally ill people to have the right to end their lives. He proposed a private members' bill on the subject in 2003 and 2005.
The flag will fly at half-mast at Wits on Wednesday 21 June 2017 to pay respect to Lord Joel Joffe – a man described in Steven Clingman's biography of Bram Fischer by Constitutional Court President Arthur Chaskalson, as possessing "near saintly qualities".