Three awards and the Presidency for Wits Anatomy
- Wits Communications
Wits academics scooped three awards at the Anatomical Society of Southern Africa Conference and Wits' Head of Anatomical Studies was re-elected as President.
Professor Maryna Steyn, head of the School of Anatomical Sciences at Wits will serve a second three-year term as President of the Anatomical Society of Southern Africa (ASSA).
Dr Carol Hartmann, a clinical lecturer in the unit for Undergraduate Medical Education received the Hanno Boon Education Prize, for her presentation, Comparison of computer and laboratory based assessment methods for anatomy practical examinations, co-authored by Desire Brits, Anatomical Sciences lecturer. This award is named for the late Professor Hanno Boon who along with other ASSA colleagues instituted the medical education time-slot into the annual ASSA programme.
Dr Toby Houlton, a postdoctoral fellow in Anatomical Sciences received the Bob Symington Prize for Best Young Presenter under 35 Years for his presentation, Typological archives: incarcerated flesh with untold histories and modern dilemmas. This prize is named after the larger-than-life Professor Bob Symington, a former ASSA president who died suddenly in 1983. The prize recognises Symington's support of young members in particular.
Vaughan Perry, a lecturer in Anatomical Sciences and an MSc (Med) candidate won the Antoinette Kotzé Prize for Best First-Time Presenter. Perry's presentation, The effects of gestational alcohol exposure on the postnatal development of the tibia in 3 week old Sprague Dawley Rats, was co-authored by Anatomical Sciences lecturers, Dr Robert Ndou and Diana Pillay. This prize honours the late Mrs. Antoinette Kotzé, a member of the 1985 ASSA Organising Committee from MEDUSA who died in a motor vehicle accident that year.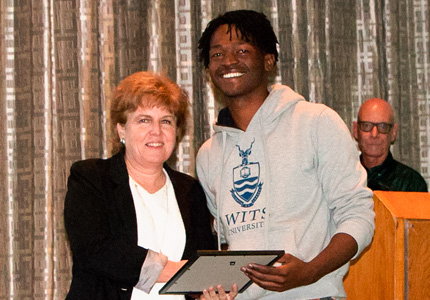 ASSA is the major regional association for anatomists and an important forum for presenting new research. The Department of Human Biology in the School of Anatomical Sciences at Wits hosted the conference in Langebaan, Western Cape from 23-26 April 2017. Approximately 135 delegates attended the conference, which covered research topics including but not limited to:
Clinical anatomy
Histology and embryology
Neuroscience
Biological anthropology
Medical education