Embracing new opportunities
- Wits University
At the age of 54, Nana Mashego is excited to be resuming her studies and has bundles of energy for what lies ahead.
Mashego began her classes on 15 May, as part of a new initiative by the University to assist staff, who were not able to complete matric or other secondary schooling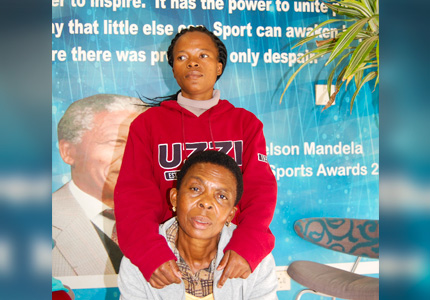 levels, to move further up the ladder.
As one of the oldest in her group, Mashego is excited to be back in class and imbibing new knowledge to be imparted during the course.
"The joy of being part of this surpasses any fears that I had about being a learner all over again," says the grandmother of four.
Growing up in Limpopo province, Mashego's schooling was cut short due to financial hardships. She held various jobs until she joined Wits in 1997 as a cleaner on the Braamfontein Campus West.
Keen to improve her education, she enrolled for classes in Adult Basic Education and Training provided by the University up until this was discontinued.
The upbeat and defiant Mashego says she is still looking forward to do more with her life.
"Sara was 90 years old when she bore a son for Abraham. Her legacy and faith inspires me – who knows what God has in store for me?" she says.
About 70 staff members have enrolled for the National Certificate in Business Administration that is currently being rolled out by the Human Resource Development Unit (HRDU). A majority of them are from the staff members who were recently insourced by the University.
According to Chantelle Murray, Head of the HRDU, the intention is to create a "pipeline" moving staff members from NQF Level 2 (Grade level 10) and NQF Level 3 (Grade level 11), through to the matric equivalent at NQF Level 4.
"This progression is extremely important because, once certified at NQF Level 4, staff members will be able to fully access the full progression potential of the NQF system.
"In practical terms, staff members will then be able to apply for higher Certificates, Diplomas and continue upward advancement, while also being able to tap into the Wits bursaries scheme in support. The project therefore has transformation and development as underpinning driver values and goals," says Murray.
Another staff member, Vongani Maluleke, sees this as a gateway to his goal.
"I have tried previously to apply to study at Unisa but did not qualify because I did not meet the requirements. After completing this course, I should be in a better position to enroll for studies in security management," says Maluleke who holds a certificate in fire-fighting.
Although it is still early days, Nonkululeko Ngejane says the first two days of the course have given her confidence.
"In the first day we worked on our personal development plan. This made me realise I can be anything I want if I commit myself," says the Eastern Cape-born and mother of two.
Overcoming the shyness to express herself in the medium of instruction (English) has also been a breakthrough for her, she says.
Ngejane, who loves helping people, once dreamed of joining the police. However, witnessing police brutality and misconduct has led to a change of mind.
The environment at the Faculty of Health Sciences where she is based inspires her. Becoming a doctor is now a possibility for the young mother.
The roll-out of the qualifications is funded by the Education Training and Development Practices Sector Education and Training Authority (ETDP Seta) and will span an 8 to 10 month period of contact sessions in 2017.