Vice-Chancellor's 2017 Report for Council
- Wits University
Wits Vice-Chancellor and Principal, Professor Adam Habib's 2017 report to the Council of the University.
1. REGISTRATION AND ENROLMENT
The issuing of offers to matriculants at the beginning of the year was very successful with sms's going out within three hours of the release of the matric results. Online registration made it possible to reduce the use of Hall 29 from 21 days in 2016 to 10 days in 2017. We aim to use Hall 29 for only five days in 2018, although we still need to address some challenges around providing curriculum advice for new and returning students. The proportion of new first year students who actually registered after accepting offers was lower than in previous years. However, the overall target for new first years was met, with 6 097 new first years enrolled at 21 February 2017. This figure is down from 6 662 new first years in 2016. The target is 5 682 and based on the data of previous years, we anticipate a 10% attrition.
The University required all new first year students to complete an online biographical questionnaire in order for us to understand the social and economic backgrounds of our student body.It is worth noting the number of new first year students per quintile: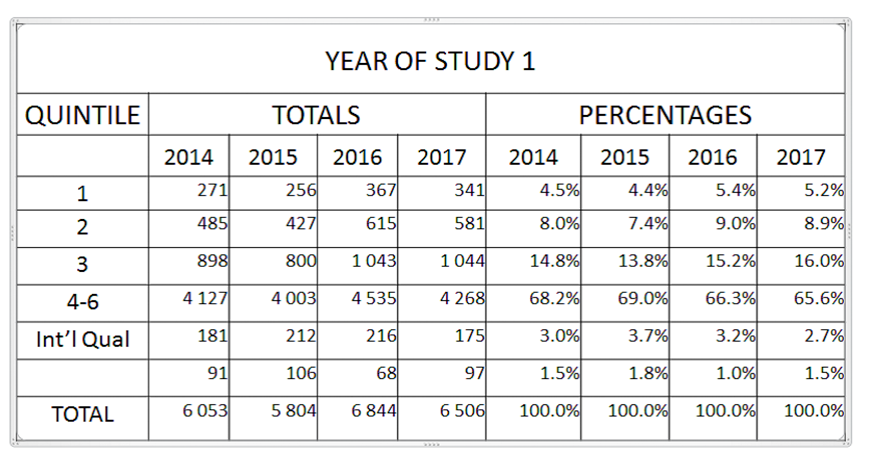 Uncertainty around NSFAS and historical debt contributed to some other categories of students also registering late. However, the total number of undergraduate students increased from 23 094 last year to 24 547 this year. The total number of new postgraduate student enrolments at 13 February increased from 1 420 in 2016 to 1 858 in 2017. Total postgraduate enrolments are currently at 8 798 and it is expected that the target of 12 662 will be met.
2. WELCOME DAY
There was an assertion in one of the speeches during our recent Welcome Day that the University is using a quota system for academic progression. I would like to clarify that there are no quotas, and that this misrepresentation is very irresponsible. This clarification must not be interpreted to deny that academics have in the past informed students that more than 50% of them will not pass. We have, however, given an instruction that such statements are not allowed by any staff member, and that should they continue to make such claims they will face possible disciplinary action. It needs to be remembered that it is the responsibility of all stakeholders not to misrepresent the policies of the University.
3. STUDENT FUNDING
We are aware that many students were unable to register due to a lack of financial resources, and we have been engaging the DHET and other stakeholders on this and other issues since last year, as well as in recent months. So far this year, there have been no student protests at Wits with regard to student funding and there been very productive engagements around concessions for students with historical debt and other issues. However, there have been serious disruptions at the University of Fort Hare and Walter Sisulu University, and the University of Venda has had to shut down due to ongoing student protests. On 31 March 2017, the University of Cape Town experienced an occupation of part of their Admin Building by a group of students with demands relating primarily to academic and financial exclusions. This ongoing instability is a cause for concern for Wits. We should anticipate that it will spread to us and we should be ever vigilant in this regard. It is unclear how things will evolve, but we have security plans in place and we are monitoring developments very carefully.
3.1 DHET contribution to fee increase
The DHET will cover the fee increase of 8% (gap funding) for 2017 for South African students whose combined family income is below R600 000 per annum. This includes both students on NSFAS and 'missing middle' students. The DHET has established a process that is common to all universities for the identification and verification of the missing middle cohort. Only South African citizens and permanent residents studying towards a 2017 qualification will be considered. Students have been required to apply for this gap funding via the Wits Student Self Service portal.
3.2 Students on NSFAS or awaiting NSFAS feedback
The DHET will pay for all students who have qualified for NSFAS, including those with historical debt. Students on NSFAS have also been allowed to register without making the first fee payment. Students in this category must have signed a loan agreement form with NSFAS in order to obtain this funding. Students who are still awaiting the outcome of their NSFAS application have been allowed to register and delay the first fee payment to the end of March 2017. Proof of NSFAS application has been required by the Fees Office before these students have been allowed to register.
3.3 Students in the 'missing middle' with historical debt
The vice-chancellors of all universities met with the DHET for clarity on support for students in the 'missing middle' with historical debt. Wits recommended that students in this category be fully supported. The DHET, however, indicated that there were no funds available and that students in the missing middle were responsible for their own respective historical debt. The DHET 3 recommended that universities assist as far as possible to register academically successful students with historical debt if such students (a) settle their debt or (b) commit to payment plans. These financial concessions are to be undertaken without breaching the fiduciary responsibilities or compromising the financial sustainability of universities. The DHET promised that they would hold a press conference the next day to clarify their position. However, they immediately reneged on this promise and when they did eventually hold a press conference, they released a multi-stakeholder statement which completely ignored the agreed principles. It is becoming increasingly apparent that the relevant ministries in government are not meeting their obligations to universities and as a result, we are becoming causalities of inept political actions.
In this context, and mindful of the current economic climate and the financial pressure experienced by students and their families, the University is trying to assist as many students as possible, while remaining financially sustainable. After consultation with the SRC, we approved the following for registration in 2017 for students in the missing middle with historical debt:
All students who owe R10 000 or less have had their debt automatically rolled into their 2017 fees and have been allowed to register.
Students who have debt higher than R10 000 have been requested to pay half the outstanding balance and enter into a payment plan for the remainder of the funds, before being allowed to register. Interest will not be charged if students abide by the payment plan.
We believe that these financial concessions have enabled the majority of Wits students to register for the 2017 academic year. This is the extent to which the University can assist students without compromising its financial sustainability. It must also be noted that, in granting assistance, the University must do so in accordance with the legislative framework governing the granting of credit by institutions.
3. 4 Discretionary Fund
Students who require funding for 2017 can apply to the Discretionary Fund which can be accessed via the Wits Student Self Service portal. The application will be added to a database which will be used to pair students with suitable donors, when the University receives such funding. A form with supporting documentation needs to be uploaded to the portal.
3.5 Lasting solutions
A new model for the financing of the higher education system is a national priority and we are hopeful that long-term solutions will be announced during the course of the year. Last year, the Chancellor, Justice Dikgang Moseneke called for a national convention to resolve the #FeesMustFall impasse. Following engagements with the President and civil society stakeholders, the Chancellor convened a summit of experts in November 2016, and a first summit with all stakeholders in December 2016. Final decisions were supposed to be taken at a Higher Education National Convention on 18 and 19 March 2017. However, the proceedings were disrupted by disagreements among stakeholders around who should be allowed to participate. Ultimately, the convention degenerated into chaos and had to be cancelled. This was an especially disappointing outcome given the fact that the convention was perhaps our best possibility for crafting a political solution to the #FeesMustFall crisis.
4. STUDENT ACCOMMODATION
There is no doubt that we are facing an institutional and systemic crisis regarding student accommodation. This year we have increased our beds by 150 to 6 100 for a student population of 37 000. We had 26 000 applications and our estimate is that demand is in the region of 13 000. This challenge cannot be immediately addressed because we would need to double our beds overnight to meet the full demand. It is estimated that the University would require over R2.5 billion to do this and construction on this scale would require several years. For now, all of our beds are completely occupied and we are increasingly using external service providers. We have requested Campus Housing and Residence Life to begin accrediting appropriate external service providers so that we can at least monitor and influence the external circumstances in which students are housed. We are also exploring a series of strategic conversations with stakeholders to see how we could go to scale in addressing the problem, including partnerships in residences and similar initiatives. We are also exploring with provincial government the transfer of buildings that could be redeployed for student accommodation. This crisis is perhaps is our single biggest challenge and we will continue during the course of the year to try to find solutions.
5. FINANCE
Council approved the budget on 2 December 2016 with a deficit of R56 million. The budget includes a higher than expected fee income due to increased enrolments. However, there is a risk around the collection of these fees. There is also a challenge around the collection of historical student debt. The total outstanding student debt for Wits at 31 December 2015 amounted to R192 million, whereas the comparative figure at 31 December 2016 was R405 million. Of the R405 million, R338 million related to the 2016 academic year. The total outstanding student debt at 7 March 2017 was R176 million with a year to date collection of R229 million. This is against a budget provision of only R100 million and it is an issue that we are watching very closely.
6. SAFETY AND SECURITY
We are investigating the implementation of a biometric system to control access to the University's premises. Campus Control is engaged in a tender process to procure a service provider for an integrated security system, and biometrics have been included in the specifications for this system.
7. FRANKENWALD
Following the withdrawal of the legal objections to the development of Frankenwald, Council Exco recommended a strategy for the release and/or development of the land which required the establishment of a joint Council/Foundation sub-committee to be chaired by Mr Sipho Nkosi and a technical committee to be chaired by Mr Taffy Adler. These two sub-committees finalised an Expressions of Interests (EoI) document which was approved by Council. The EOI process has run its course and proposals arising from the various applicants are being considered by the Council/Foundation Committees. We have also received a request from the Executive Mayor to explore the possibility of an outright purchase of Frankenwald by the municipality. We have had subsequent, similar conversations with the Gauteng MEC for Cooperative Governance and Traditional Affairs and Human Settlements. I have made it clear in my discussions with government that we are looking at a R1 billion purchase price to establish an endowment to enable access for poor students.
8. INSOURCING
In response to the calls to end outsourcing, Council approved the establishment of an Insourcing Task Team (ITT) comprising workers, students, academic staff, management and Council members. After months of robust debate, a policy was finalised, proposed to Council and agreed in June 2016. A Management Implementation Task Team was appointed to renegotiate existing contracts, and set up the HR systems and induction and training programmes for the new Wits employees. Insourcing at the University commenced at the beginning of 2017. Other previously outsourced groups of workers will join the University as employees during the course of 2017. Services to be insourced are cleaning, catering, security, transport, waste, grounds and landscaping. This amounts to approximately 1 530 workers. The first changes were implemented in January 2016 following discussions by the ITT. The University absorbed the costs of the difference in the salaries paid by the outsourced service providers by paying a 'top-up allowance' to meet the agreed minimum wage. The salary of outsourced workers who earned below the minimum wage was increased to R4 500 in January 2016 and to R6 000 for the period June to December 2016. The commencement of insourcing in 2017 brings a further increase set at R7 860 (cost to company).
9. DIVERSITY IN FACULTY GOVERNANCE STRUCTURES
We have undertaken a review of our Faculty governance structures. The results suggest that we are still significantly dominated by white males and under-represented by African females. It is worth noting that some Faculty committees are more diverse than others. For example, the most racially diverse Faculty Executive is Health Sciences (62% black). The most gender diverse Faculty Executive is Humanities, with 55% females. There are multiple challenges around diversification, including a small pool to choose from given the skewed demographics of academic staff (75% white) and the Senior Management Group (65% white). To address these challenges, we will continue to prioritise diversity through our Transformation Programme, as well as ensuring diversity in our appointment of academic staff, heads of schools and senior managers.
10. SMARTSPOT QUALITY (PTY) LTD
Wits Commercial Enterprise (Pty) Ltd is wholly owned by the University and mandated by Council to commercialise the University's IP through licence and/or spin-out companies. One such company, SmartSpot Quality (Pty) Ltd, has been created by Wits Enterprise to commercialise a new product that has been developed by a team of scientists from the Faculty of Health Sciences. Material used in SmartSpot's TBCheck product was developed and is produced under contract by the Centre for Biomedical TB Research, also based at Wits. TBCheck, SmartSpot's flagship product, is a specially designed paper card containing inoculated biomaterial that is used to qualify the accuracy of Tuberculosis (TB) sputum tests. Wits Enterprise worked with the research team to develop a plan to commercialise the technology and the team subsequently won a number of business plan competitions. Using the prize money as seed capital, Wits Enterprise facilitated a spin-out company that started trading in 2016. SmartSpot has been shipped to over 24 countries globally with many more countries in the pipeline. In South Africa, SmartSpot has been used on all 289 GeneXpert instruments in the National TB programme. Over a year, TBCheck cost ~0.1% of the cost of the national TB screening programme and the results of the testing found that 2.6% of the GeneXpert instrument's modules on installation required additional maintenance before tests could be performed on clinical specimens. If SmartSpot has not been used, this could have translated to 78 000 of the three million tests having been performed in error. The impact of this would be that some patients would remain undiagnosed and either die or spread the disease within their communities. Others would have been incorrectly diagnosed with TB and put onto 18 months of toxic drugs that can lead to hearing loss.
SmartSpot completed its first year of operation as a registered company at the end of 2016. It exceeded initial expectations and will declare a profit after paying a royalty (comprising an initial royalty and a first year of a running royalty) of over R1 million to the University. The royalty will be distributed according to the University's IP Policy and the IPR Act.
11. WITS IN THE MEDIA
Wits continues to maintain a leading role in the South African media arena. It uses both traditional and digital media as a conduit to reach key stakeholders and the public through the promotion of the University's research, rankings, academic projects, experts, academics, students, events, conferences and public lectures. The focus has moved from using the media solely as a conduit to building communities through our paid, earned, owned and shared media. The new award-winning Wits website now serves as a hub for all digital and new media activities. In 2016 alone, Wits increased its number of followers on Twitter to 47 000 and on Facebook to 85 000. In addition, a multimedia hub has been established which will produce digital content for various platforms.
During the period 1 November 2015 to 29 November 2016, Wits had 42 208 items published in the traditional media with an Advertising Value Equivalent of R1 692 550 776.35, ahead of all universities in the country. Key projects included a partnership with eNCA and the Independent Group in a series of public debates that were televised live in the run up to the local government elections. Other notable campaigns included the launch of the Tshimologong Precinct, formidable research conducted at CERN, big data capabilities, innovations in physics, the national minimum wage, sugar tax research, a lecture series focusing on the NDP, diversity studies, HIV/AIDS research, and our online learning strategies.
Wits received the most attention during the #FeesMustFall protests, but also claimed the majority of the share of voice during this period.
Share of voice in traditional media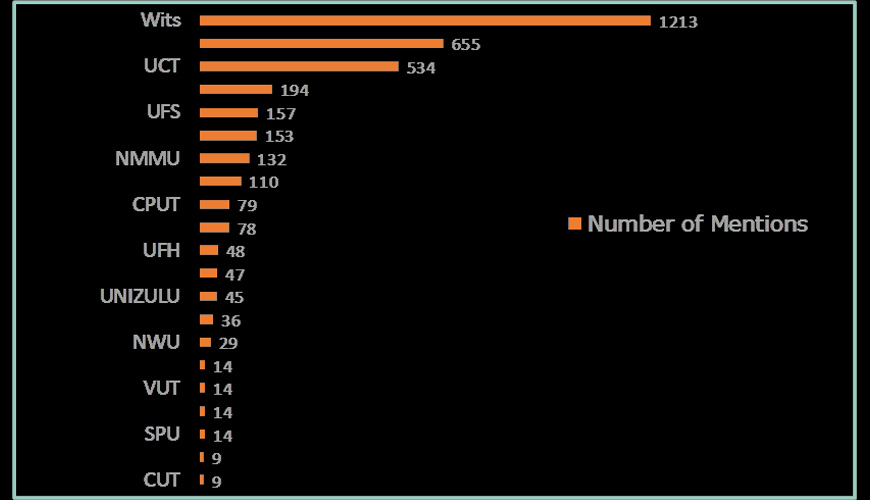 Source: USAF (19 Sep – 31 Oct) 7
Citations by spokespeople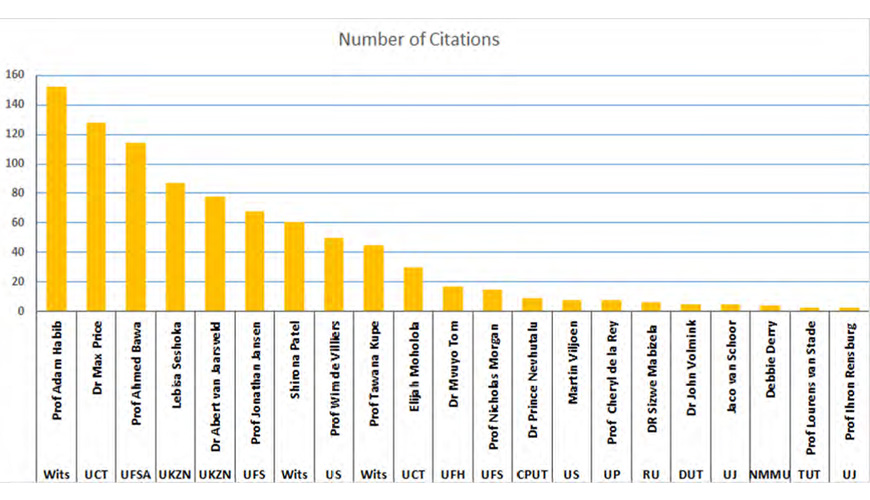 Source: USAF (19 Sep – 31 Oct)
12. WITS VARSITY CUP ACHIEVEMENTS
Our sporting strategy is now beginning to bear fruit on multiple levels. In particular, the Wits Varsity Cup rugby team has been going from strength to strength. They have had a number of big wins against traditional powerhouses, including UCT's Ikey Tigers, NWU-Pukke and NMMU's Madibaz. Their impressive performance in this regard has made us truly proud.