Hamba Kahle Uncle Kathy
- Wits University
Statement: Ahmed Kathrada's legacy will continue to inspire us and future generations.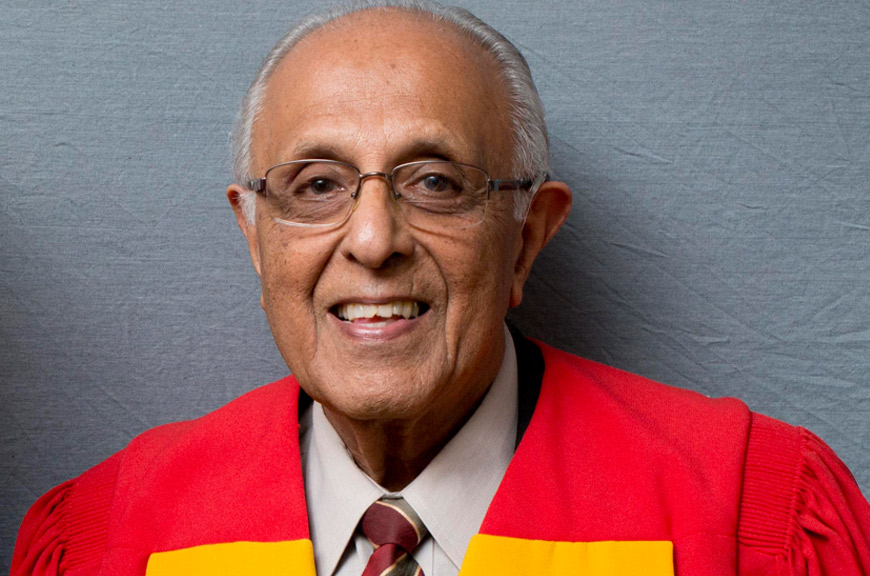 The University of the Witwatersrand extends its condolences to the family and friends of struggle veteran Comrade Ahmed Kathrada who passed away at the Wits Donald Gordon Medical Centre this morning.
Comrade Kathrada was a globally renowned political figure, a strong advocate for deepening the practice and understanding of non-racialism, and a humble human being who always had a moment to engage with students, academics, and members of the Wits community.
Fondly known as 'Uncle Kathy', he selflessly dedicated his life to fighting for freedom, justice, non-racialism and democracy, for the benefit of others.
He spent three months at Wits in 1950, studying towards a Bachelor of Arts degree, when his studies were interrupted by the politics of the time and he left the country.
Wits conferred an Honorary Doctorate of Literature on Comrade Kathrada, which he accepted on 11 December 2012. Read the full citation. He used his address at this gathering to talk about South Africa's strong judiciary and legal stalwarts, and encouraged citizens to protect the Constitution. He also made an appeal for the legacy of the founding fathers of South Africa's democracy to be respected, and not to be trampled upon in any way.
We commiserate with the family and friends of Comrade Kathrada, and those who knew him well. It is an extremely difficult loss for our country, but we take comfort knowing that his legacy will continue to flourish in the wake of his passing, that his contribution to South Africa and the world will inspire future generations, and that his commitment to non-racialism will never be forgotten.
Hamba Kahle Uncle Kathy – rest in peace.