Witsies claim top positions
- Wits University
Wits students scooped all the available positions in the undergraduate category of the Nedbank and Old Mutual Budget Speech Competition.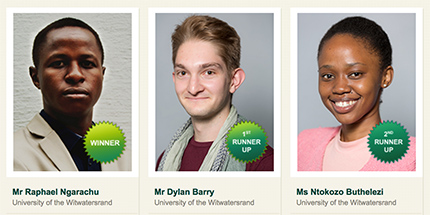 The Witsies were awarded generous prizes for their well-researched essays and presentations on how the budget can be used to address South Africa's competing socio-economic needs.
Winner Raphael Ngarachu walked away with R60 000, first runner up Dylan Barry claimed R40 000 while second runner up Ntokozo Buthelezi was awarded R20 000.

Overall eight Wits students from the School of Economic and Business Science were shortlisted to as finalists in this national challenge.
In the past years Witsies have dominated the competition. In 2015 the postgraduate category was won by a Wits student Tlhalefang Moeletsi. The year prior both categories were won by Witsies.
Entries to the 2017 Nedbank and Old Mutual Budget Speech Competition are now open and close on Wednesday 31 May 2017.