Absa bank donates R10 million towards supporting Wits' "missing middle"
- Wits University
The University will allocate the funds towards supporting a minimum of 250 students.
Absa Bank made a R10 million donation to the University of the Witwatersrand (Wits), to support the so-called "missing middle" undergraduate students who face financial obstacles and challenges.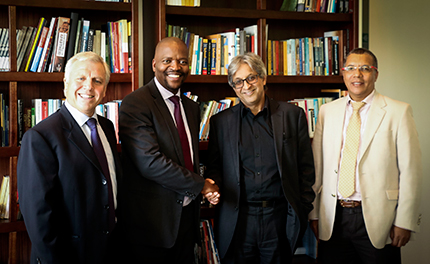 Absa Bank's Dr Theunie Lategan, non-executive Deputy Chairman, Barclays Africa Corporate and Investment Banking division and Steven Seaka, Head of Public Sector, Absa Group-SA, handed over a letter confirming the bank's commitment towards the funds to Wits Vice-Chancellor and Principal, Adam Habib and Council Chairman Dr Randall Carolissen on Friday afternoon.
Maria Ramos, CEO of Absa, says: "As part of our commitment to building a more equitable and prosperous Africa for the next generation, we earlier this year launched our Shared Growth Strategy. One of its pillars is Education and Skills Development, for which we have put aside funding to support young talented people".
The University will allocate the funds towards supporting a minimum of 250 students. The funding is in addition to the annual R2 million, 10-year sponsorship of 20 Wits University bursary students who are contracted to join the employ of Absa on completion of their studies.
"We feel a responsibility to make a contribution while long-term solutions to higher education funding are being developed. We trust that this contribution will assist Wits University to make quality education more accessible to the youth of South Africa," says Ramos.
Habib says Wits University is particularly appreciative of the additional contribution from Absa.
"This will go a long way in assisting poor, talented students at Wits University to complete their programme," says Habib. "Wits University and many of the other universities offer quality degrees that are well recognized in the world, and we produce world-class professionals, and if we are going to keep our universities functional and retain the quality, then we need to ensure that we get all the stakeholders participating in the university system and the private sector is one such participant."
Habib adds that the private sector plays a pivotal role in the ongoing success of universities in South Africa.
"There are three very distinctive partnerships that can emerge between universities and the private sector. The first is as a donor to support scholarship, the second is as partners where they support research by establishing research Chairs and having corporate research arms established at universities, and third, and very importantly, working with us in rethinking our curriculum. Clearly, what is required of the professional in 2016 is profoundly different to what was required in 2000. We need to constantly innovate in our curriculum, and having private sector engagement in our curriculum committees is absolutely important in facilitating a curriculum that speaks to the realities of the economy, of the corporates and to the skillsets that our students require".