Witsie made a NatGeo Emerging Explorer
- Wits University
Underground astronaut, Marina Elliott, says she is honoured to be part of this prestigious research programme.
A postdoctoral Research Fellow in the Evolutionary Studies Institute (ESI) and Centre for Excellence in Palaeosciences at Wits University, Elliot has been named a 2016 National Geographic Emerging Explorer.
She is one of 13 scientists from various countries who have been chosen to be part of this prestigious programme from the National Geographic Society that "recognises and supports uniquely gifted and inspiring scientists, conservationists, storytellers, and innovators—explorers who are already making a difference and changing the world".
"It is an amazing honour, and especially humbling to be included in this year's cohort, as it is an incredibly diverse and talented group of people. It is exciting to be joining the National Geographic family, an amazing group of people, and an organisation that creates tremendous opportunities to reach people all over the world and make a difference through exploration, scientific research and education," says Elliott.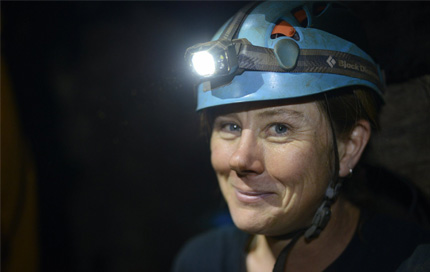 The biological anthropologist is part of Wits University's Rising Star Expedition team led by renowned palaeoanthropologist, Professor Lee Berger, who excavated the now famous Homo naledi – a new species of human ancestor and announced the landmark discovery during an international launch in 2015.
Elliott was one of the underground astronauts – a specialised group of six women Berger sourced through social media and who all fit the strict criteria of having to be tiny and small with specialised skills in caving and spelunking as well as excellent archaeological, palaeontological and excavation skills.
After the initial expedition, the Canadian joined the ESI where she continues to do research on H. naledi.
She plans to use the financial support and this recognition to promote science education in South Africa and around the world. "I am particularly interested in encouraging young girls and anyone who might not normally have access to educational and financial resources, to pursue studies in the sciences. I also want to promote scientific exploration by creating opportunities where people can develop skills and knowledge to go out and make discoveries of their own. There is so much more to discover!"
It is just exciting to realise that the great age of exploration isn't over with, that there are places to explore and there are things to find. – Marina Elliott
In this interview with National Geographic's Christina Nunez, Elliott talks about the path that led her to being part of the Rising Star Expedition, and the way forward.