The hidden technology
- Wits University
Automatic control is a technology that modern society cannot live without.
Professor Ian Craig, Group Head: Control Systems in the Department of Electrical, Electronic and Computer Engineering at the University of Pretoria, delivered the 2018 Bernard Price Memorial Lecture at Wits University.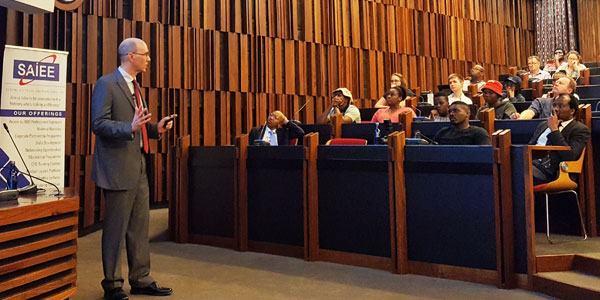 In his presentation, titled: Automatic control: The hidden technology that modern society cannot live without, Craig explained why automatic control is so important: Where an automatic controller 'thinks' about what will happen next in the process that it controls, and based on the feedback, take the necessary steps and instruct corrective action to the actuators to drive a process in a desired direction.
"Almost all goods and many services consumed in today's modern economy are impacted on automatic control and automation," said Craig.
He touched on a range of areas – manufacturing, aircraft, and health systems to name a few – and explained that automatic control is a pervasive technology that is prevalent in the production of almost all goods and services consumed by the modern consumer.
"Control systems thinking provide a framework that can be applied to almost any system imaginable. Today, control engineering skills are in demand to optimally utilize increasingly complex systems and to the exponentially increasing number of sensors and actuators available. There are also many opportunities arising to apply automatic control to areas beyond the traditional physical engineered systems," he added.
About the Bernard Price Memorial Lecture
The Bernard Price Memorial Lecture has been jointly hosted by Wits University and the South African Institute of Electrical Engineers since 1951.
The first such lecture in 1951 was delivered by Professor Basil Schonland, the founding director of the Bernard Price Institute (BPI) at Wits. The topic was: The work of the BPI: 1938-1951. It covered the history of the BPI, as well as the work of the BPI – including the work related to lightning. It also covered the role of the BPI in the development of RADAR as deployed around the South African coast, as well as in the East African and Mediterranean theatres of WW2.