Software licence donation advances Geosciences
- Wits University
Petroleum Experts Ltd has donated an academic software licence worth R25m to the School of Geosciences.
The School of Geosciences has acquired MOVE software, the global standard in the minerals exploration, mining, and environmental geosciences for analysis of structural geological data collection, analysis, 3D visualisation and modelling.
The donation by Petroleum Experts Ltd of 10 academic licences for use in research and student training has been made on a renewable licence agreement and is valued at approximately R25m.
Dr Matthew Brayshaw joined the School recently from the mining industry where he used the software in mine exploration.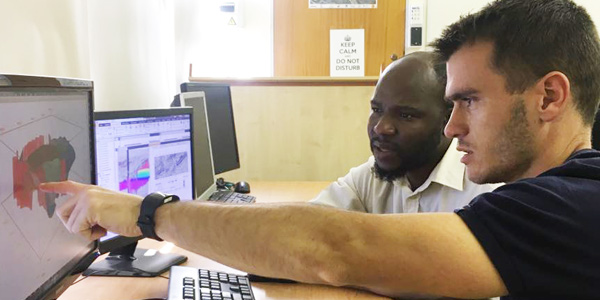 "I found the MOVE software to be incredibly useful in stress mapping related to targeting mineralization prospectivity in hydrothermal gold deposits. The ability to integrate my structural observations with other geological and geophysical datasets on a single platform and at varying scales was particularly beneficial and is something that I am continuing into my research," he said.
Brayshaw has secured funding for several ruggedized tablets that can withstand the rigours of geological fieldwork. These tablets will be used for data collection and then linked to the campus-based MOVE software suite.
Dr Asinne Tshibubudze, senior lecturer in the School, co-leads the West Africa Craton Exploration Initiative (WAXI). WAXI creates integrated digital geological and geophysical datasets across multiple countries in West Africa that can then be interrogated by mineral exploration teams. Tshibubudze said he was looking forward to using the MOVE software to train students.
"Having personally experienced the benefits of digital mapping technologies within the project [WAXI], I am excited to have the opportunity to train our local and international students in modern mapping techniques that can be applied in the African context."
Professor Roger Gibson, Head of the School of Geosciences, expressed his gratitude to Petroleum Experts Ltd for the generous donation, which comes at a time when the School is completing a significant overhaul of its undergraduate curriculum which, inter alia, aims to develop stronger data management and interpretation skills in students.
"This donation comes at an opportune time when we are strategizing about how to accommodate the accelerating technological innovation within our discipline. Our teaching team is already hard at work looking at ways to incorporate the MOVE software into our senior undergraduate and postgraduate courses so that our graduates can take their places with confidence in the modern workplace that is experiencing massive technological disruption," he said.