Location, location, location
- Wits University
Winners of GeoJozi Challenge will help solve Jozi's street address problems and improve service delivery.
Three young, talented developers came out tops in the 2016 GeoJozi Developer Challenge – the first to be held through a partnership between the City of Joburg, Wits University's Joburg Centre for Software Engineering (JCSE) and mapping software company, Esri South Africa.
This year's challenge was aimed at developing digital location solutions that will best solve Joburg's street address issues – a very crucial aspect for a city and municipality as an address specifies a point of service delivery and makes the city function better for everyone.
The winners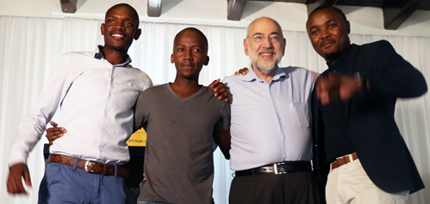 The first, second and third place winners are:
Thapelo Sekwena, a junior software developer at SAAB. With partner Ganwell Banda they developed an app that uses a combination of gamification, crowd sourcing and augmented reality that simply asks users for addresses in exchange for rewards on places that need addressing or validation.
Methembe Dlamini, a Masters student in Computer Science from the University of Johannesburg. His app deals with the need to locate a certain point even without knowledge of the exact address. By linking a person's contact information with their current address, where they reside can be established.
Absalom Mpanze, analyst developer at Standard Bank. His app's intention is to take peoples' footsteps to create a unique code for that place and point in time, which is shared. Every point is unique, as is the code, and it guarantees accuracy. Individuals use this code to accurately find addresses and will be prompted to name their streets if none exist.
Director for Corporate Geo-Informatics for the City of Johannesburg Marcelle Hattingh says, "Street addresses specify points of service delivery. They are essential for electricity, water, refuse, sewage, emergency services, land ownership, parcel deliveries, safety and security, being able to vote and countless other critical services and functions.
"Street addresses that are not clearly displayed or not displayed at all make it difficult, and sometimes impossible, to deliver essential services to residents of the city. In some informal settlements, we still have areas where street addresses don't exist at all."
It's all happening at Tshimologong
GeoJozi is the next in a long line of collaborations Wits' JCSE, based in the new Tshimologong Digital Innovation Precinct, have had with the City of Joburg.
Barry Dwolatzky, Director of JCSE and Professor of Software Engineering in the Wits School of Electrical and Information Engineering, says Joburg is the centre of the digital economy in South Africa and in Africa, and the aim with the Tshimologong Precinct is to create a digital innovation hub where "we could bring together all the amazing innovative people in our city".
"The JCSE has now twice run the #Hack.Jozi Challenge (an annual bootcamp for startups) and will be doing the third one soon. This is the first GeoJozi Challenge we ran and it has been a remarkable journey to see young people be innovative, creative, and energetic, and come up with these great ideas."
It is not only the three top winners that have benefitted from this challenge. From 80 submissions, 10 contestants were chosen following a rigorous series of briefings, pitches and shortlisting.
Says Prof. Dwolatzky: "In choosing the top ten, the solutions that showed the entrants had more deeply understood street address challenges in our city were the ones that stood out. In addition, contestants that had done user requirement analyses and fieldwork offered more appropriate solutions."
The 10 finalists have all completed an intensive period of Geographical Information System (GIS) training, as well as professional software practice, start-up and business modelling, and social media training.
More GeoJozi Developer Challenge solutions
A property game similar to Monopoly but which only uses real addresses
A system that helps to identify and name locations within informal settlements
The quick harvesting of crowd sourced addresses to enhance address databases
An app which allows users to navigate to locations without knowing the address or GPS co-ordinates
A voting and reporting system for people to vote for street names or to report address issues they encounter
An innovative address plate which is the key element of a system that sources and validates addresses and displays them on the address plate device
A system that provides verifiable and identifiable addresses located in informal settlements
A system which creates a unique code for a point in time which is shared and linked to a map layout to locate an address
The ability to use geo-caching to link a home owner's identity to a set of coordinates specific to their address.