Future Ecosystems for Africa programme launched at Wits
- Wits University
Programme aims to identify African ecosystem vulnerabilities while leveraging African-informed transformative change opportunities.
The Oppenheimer Generations Research and Conservation in partnership with the University of Witwatersrand and the University of Exeter launched the Future Ecosystems for Africa programme at the Origins Centre museum at Wits University in Braamfontein.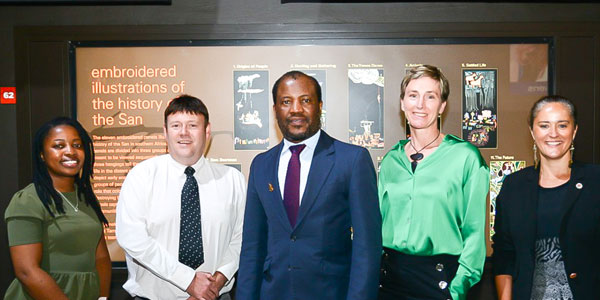 The Future Ecosystems for Africa programme is an African-wide initiative that aims to identify African ecosystem vulnerabilities and tipping points while leveraging African-informed transformative change opportunities. It supports research to address conservation and development issues across the continent, identifying that Africa has a unique, but temporary opportunity to guide development onto nature-supporting, rather than nature-eroding paths.
The programme was made possible through a donation from Oppenheimer Generations Research and Conservation as part of the Wits Centenary campaign, in which the University celebrates 100 years of research excellence. Wits' Centenary is an opportunity for the global community to celebrate the impact that Wits has had on their lives, and a chance to reflect and to look to the future.
As part of its Centenary campaign, Wits aims to raise R3 billion in order to give more of South Africa's talented youth access to quality education at Wits, and attract top teaching and research talent, we can do even more to tackle inequality, contribute to employment and drive sustainable development.
Global collaboration for local action
The overarching aim of the Future Ecosystem for Africa programme is prioritising ecosystem-based interventions in Africa, this includes what to protect and how, plus what to rehabilitate, and also identifying whose voices need to be included in this decision-making.
Through this programme, Wits University Professor Sally Archibald and Associate Professor Laura Pereira are working with project partners from across the continent and the globe to drive research that can feed into policy strategies that enhance the resilience of African ecosystems and the wellbeing of its people. This approach to developing resilient African Future Ecosystems will build on findings from the IPBES (Intergovernmental Science-Policy Platform for Biodiversity and Ecosystem Services) regional assessment for Africa that emphasised Africa's rich bio-cultural heritage and diverse value perspectives for nature needed to be brought more strongly to the fore in science and decision-making.
"This is an Africa-led, Africa-centred programme to influence thinking and action on the continent," says Archibald.
The journey starts with progressive and thoughtful futures thinking to re-imagine Africa's future with communities across the continent. Co-creating these futures requires drawing on data and knowledge from within Africa, and integrating ecological, social and economic information with the stories and belief systems of local peoples.
Project partner, Dr Duncan Kimuyu says that "This programme presents a much-anticipated opportunity to change the narrative about how African ecosystems are perceived and managed".
Developing the next generation of African scientists and empowering them to have strong voices around African development pathways brings us a step closer to ensuring sustainable future ecosystems. This programme enables African scientists to mobilise and increase their impact, strengthens existing regional networks, and will support several 'Oppenheimer Impact Scholars'.
According to Dr Duncan MacFadyen, Head of Research at Oppenheimer Generations Research and Conservation,"the development of the Future Ecosystems for Africa Programme is hugely exciting as it will undoubtedly create real impact and practical outcomes across the African continent. We hope to better understand the unique and complex relationships between man and the environment, as well as develop an understanding of self-healing rates within different landscapes across the continent," says MacFadyen.
A model for impact
The programme is designed to ensure that activities ranging from data collection to visioning workshops all have maximum impact through active integration and feedback between core project activities. Outputs drive action at high levels through national policy and global negotiating platforms, and from the bottom-up through targeted interventions and innovative local projects.