Fak'ugesi Festival 2021 #BUILDCOZYOUHAVETO
- Fak'ugesi Festival
This year's Fak'ugesi Festival will be a hybrid event and takes place from 14 to 24 October 2021.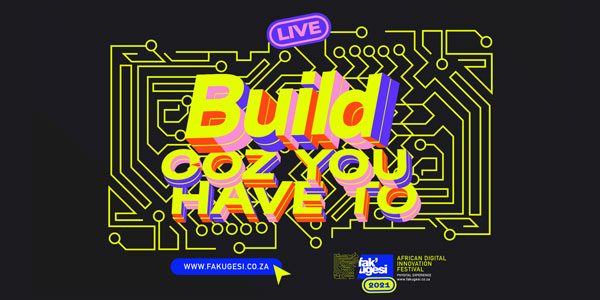 The annual celebration of tech-powered African creativity is hitting reset with a phygital format - a blend of the physical and the digital – and social sculptor dillion s. phiri is in the curator's seat.
Tshimologong Innovation Precinct and Wits School of Arts are proud to announce the 8th annual Fak'ugesi African Digital Innovation Festival 2021 by the newly appointed curator dillion s. phiri.
Fak'ugesi 2021 will continue to bring industry, researchers and creators together to celebrate how technology enables creativity while zooming in on the ways this relationship shapes our lives.
The Festival will be exploring what building currently means for creatives using tech, under the banner of this year's theme: #BuildCozYouHaveTo.
"Fak'ugesi agitates the status quo by showcasing the new realities that become possible when technology and creativity fuse," says Lesley Donna Williams, Chief Executive Officer of Tshimologong. "It provokes new perspectives on both problems and opportunities in society, one can't help but respond energetically. It's a gathering place to channel youthful action, for corporates with a focus on R&D and for public sector agents who are championing the design of future cities."
Newly appointed Festival curator and social sculptor dillion s. phiri, best known for founding Creative Nestlings, brings you this year's programme which is set to inspire and equip the next generation to build homegrown creative solutions across our 6 digital creative building areas:
Digital Music
Digital Art
Immersive media (AR, VR & IR)
Gaming
Animation
Maker Culture (from robotics to the internet of things)
"On an endless digital landscape, construction never really ends," says phiri. "From low-code tools and virtual goods to digital collaboration and the creator economy, the possibilities are endless and the barriers to entry have never been lower. While key structures in today's digital world may belong to a select few, tomorrow's world belongs to everyone, especially African creators. If you want to build, the timing will never be better than right now."
The new phygital format festival will take place online with some in-person interventions in Johannesburg (details to follow), but don't expect a handful of Zoom panels. Expect an immersive, multifaceted virtual experience, including workshops, a conference, screenings and exhibitions, a new virtual expo, and a full slate of awards for young creators breaking the mould in digital creativity.
Dr Tegan Bristow, founder and outgoing director of the Fak'ugesi Festival, states: "This is an electrifying new phase for Fak'ugesi Festival's history with dillion s. phiri at the curatorial helm bringing in a new era for African digital creatives."
Bristow returns to her work at Wits in a new role that aims to develop a stronger link between academia and industry for the digital creative industries through the Wits School of Arts & Tshimologong partnership in industry linked research and development. In 2021, apart from lending her extensive expertise to the event as a member of Fak'ugesi Festival steering committee, Bristow will focus on developing an alumni-focused programme celebrating the extraordinary talent and work that Fak'ugesi Festival has had the pleasure of showcasing and developing over the last seven years.
Registration to attend Fak'ugesi Festival 2021 will be available soon.
Want to get involved in Fak'ugesi Festival 2021? Visit https://fakugesi.co.za/fakugesi-festival-2021-buildcozyouhaveto/
About Fak'ugesi:
The Fak'ugesi African Digital Innovation Festival is rooted in showcasing and developing skills in technology, art and culture in Africa. Founded in 2014 as a collaboration between the Tshimologong Digital Innovation Precinct and the Wits School of Arts, Digital Arts Department, the festival takes as it starting point the idea that in order for innovation with technology to succeed, a strong connection needs to be made to African cultural practices and creative encounters. Fak'ugesi means "switch it on " or "add power" in urban Zulu, and was initially named by the late Shonisani Lethole, a kind, generous and inspiring entrepreneur and friend of industry.
About Wits University's Tshimologong Digital Innovation Precinct
Tshimologong Precinct aims to create world leading African digital entrepreneurs. It is a digital hub based in the inner-city district of Braamfontein, where the incubation of start-ups, the commercialization of research and the development of high level digital skills for students, working professionals and unemployed youth takes place.
Setswana for "new beginnings", Tshimologong catalyses the transformation of Braamfontein into a premier technology destination to raise the profile of African digital innovation by inspiring new talent and addressing rising youth unemployment. As a university-based incubator, Tshimologong Precinct further aims to commercialise research done by Wits University students.