Equipping Wits' ICT students for future jobs
- Wits University
Leading Chinese telecommunications company injects more than R1 million towards student funding at Wits.
The scholarship boost to Information Science students will allow them to pursue their dreams with this donation of R1 150 000 by ZTE South Africa, a multinational telecommunications equipment and solution company with headquarters in Shenzhen, China.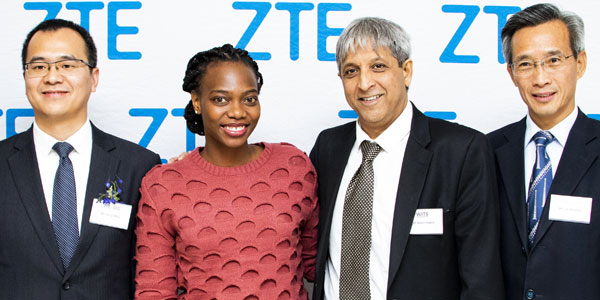 Speaking at the handover ceremony on 31 May 2019, Professor Adam Habib, Wits Vice-Chancellor and Principal, thanked ZTE South Africa saying the funding cements a strategic partnership with the University.
"Your contribution of scholarships to our students in the ICT and telecommunications field is at one level a scholarship, and at another level it is developing a whole series of students who would not have been able to have the resources to get the human resource skills. It is the building of transnational partnerships," he said.
Habib added that both China and Africa needed to come together to collectively address the multinational and transnational challenges we face through strategic partnerships.
"Every single one of our challenges, is multinational, it is transnational. It is not necessarily national itself. If we are going to address these challenges, we need multinational teams of researchers, business people, academics, activists and communities that begin to address the challenges of our times. If we do not cohere as a collective human, if we do not come together as a human community, we will never be able to address the challenges that we confront. This is why this partnership with China is so important."
Jerry Zhou, CEO of ZTE South Africa said they are proud to collaborate with Wits to unlock opportunities for talented students.
"We are very excited to have this opportunity to make a contribution to education, which is fundamentally one of the key factors for the growth of South Africa in the future," said Zhou.
The scholarship donation is part of ZTE's obligation to fulfil its corporate social responsibilities. The company has offered support to various sectors such as education, health care, technology and skills development. Speaking ahead of Youth Month celebrated in South Africa in June, Zhou said empowering young people by investing in them is a key focus for ZTE.
"Today South Africa is going through an important era and stage of transformation and we strongly believe that our future lies with the youth of our generation and we need to empower them with training, skills development and technology transfer. A high-skilled workforce such as IT and telecommunication professionals are extremely scarce, and as part of our corporate responsibility, we wish to participate in the vision of South Africa's youth, which is 'preparing the youth for future jobs."
ZTE has been sponsoring Wits students since 2017. Over 15 students are now beneficiaries of the funding from ZTE. One of the beneficiaries of the scholarship, Nontsikelelo Harmse, said she is honoured to be awarded the scholarship and recognised among several other ICT students in the country. An honours student in Information Sciences, Harmse says she enjoys the constant innovation and creativity in the field because the world is going digital.
Chinese Ambassador to South Africa, Lin Songtian, who was at the ceremony, said "to invest in education and human resource development is to invest in the future."
Songtian added that the Chinese came to invest in Africa's infrastructure to prepare it for the Fourth Industrial Revolution.