Engineering student's book wins award
- Wits University
Wits student, Musawenkosi Nyati has published an award-winning book, Mobile App Development.
Musawenkosi Nyati, a second year civil engineering student received the recognition at the 2020 AfriCAN Authors Awards, which took place on 31 July 2020.
The tech-savvy student says he published the book after receiving numerous questions from people on how to develop apps. The book took him two months to write.
His interest in app development was spurred three years ago when he was selected to represent South Africa in the Commonwealth Chess Championships but was unable to attend due to financial challenges.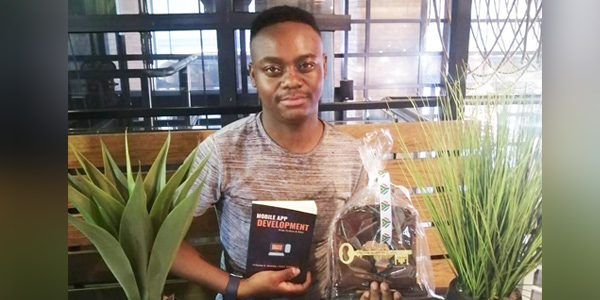 Nyati, a former South African junior chess champion says when he could not participate in the competition, he "decided he wanted to bring the game into a digital arena". This is a project he is currently working on and hopes it will enable other people with financial challenges to participate virtually. He holds over 60 trophies and 108 medals from his time as a chess champion.
Talking about the award, Nyati says he was ecstatic to receive the recognition for his book, which was published more than a month ago. "I feel very happy because it is my first author award ever, so I am motivated to do more," he said.
Nyati has launched over 22 apps to date including his social media chat app, Flensi Connect, which he says is inexpensive due to its low data usage. "It allows people to communicate with less data and it has very good privacy and also has a built-in diary," he says.
Aside from his love for computer programming, the 18 year-old student has a passion for motivational talking, poetry and short story writing. He follows a strict timetable that enables him to juggle his academics, businesses interest and other passions. "I make sure to discipline myself to follow it, making school the priority of course."
Nyati, who aspires to be the South African version of Elon Musk says hard work and consistency is key in everything he does. He advises other youngsters not to be discouraged when they encounter challenges. "It will get tough, but you have to be confident and consistent."
His book is sold at R279.99 per copy and can be delivered free of charge nationwide. The book can be ordered directly from him via email on musanyathi20@gmail.com or on 083 340 7224.