Engineering solutions for tomorrow
- Wits University
Final year engineering showcased their design-and-build projects which provided solutions to everyday life challenges.
Engineers are known to be the masterminds behind innovative designs, systems and structures that solve real life problems. The skills of engineers cut across various sectors.
The School of Electrical and Information Engineering annual Open Day held in the Chamber of Mines Building on 28 August 2018 was testament to this.
The open day showcased the design-and-build projects of final year students in the School, which applied scientific methodology and theory for practical solutions to their identified problems.
Khwezi, a mobile app developed by students Refilwe Semenya and Ngoako Monyebodi, addresses the challenge of reporting incidents of sexual harassment on Wits' campuses more efficiently.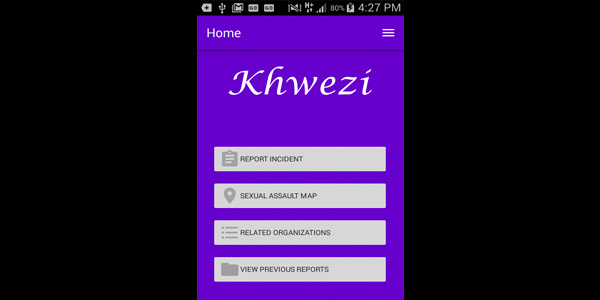 Issues around gender-based violence persist at the culmination of Women's Month in August, when scores of women made public outcries against the scourge and urged intervention from government and the public.
"This app is a way to combat sexual assault. We noticed that people are usually shy or scared to report sexual harassment incidents and the reporting procedure can be long and traumatising to the victims," said Monyebodi.
The app includes a feature where the victim can give a full description of the offender, which compares this with previous offenders reported on the app.
Users of the app will also have access to a map, which indicates hotspots to avoid.
Aspiring biomedical engineers, Boitumelo Manji and Fiona Oolo who want to make their mark in the male dominated industry, applied their skills and knowledge to improve medical tools.
For their project, the pair designed an electronic stethoscope which can be used by medical practitioners to listen to internal sounds in the body, such as those produced by the heart, lungs and abdomen.
"The device offers real time data phonograms of internal body sounds and can capture and store them. This enables doctors to go back to the captured data and replay the sounds to check for abnormalities even when the patient is not there," said Mantji.
The system is also able to detect from where in the body the sound is coming.
The three best projects received awards from Professor Estelle Trengove, Head of the School of Electrical and Information Engineering.
Students Lauren Barger and Vassiliki Marantos won the best poster for their project, Advanced Control of a Ball. The device they developed controls the position of a ball on a flat plate without the ball rolling off.
"We hope that our project will be used for future control engineering students, who will use the model to implement their own controllers. We are hoping for the project to be developed into a lab kit for the control department. The applications are simply an educational or testing platform, however the same theory applies to various other similar systems such as drones, suspension control in cars and many more", said Barger.