Dr Mitch Cox named 2023 Optica Ambassador
- Wits University
He is one of 10 exceptional early-career members selected from around the world to serve as a 2023 Optical Foundation Ambassador.
The Optica Foundation is the charitable arm of Optica (formerly known as The Optical Society or OSA), a global society committed to advancing the science of light worldwide. The Foundation selects a group of Ambassadors each year as part of a program to support emerging leaders in their careers. These Ambassadors serve as mentors to other early-career professionals and students, providing guidance and support through both virtual and in-person programs.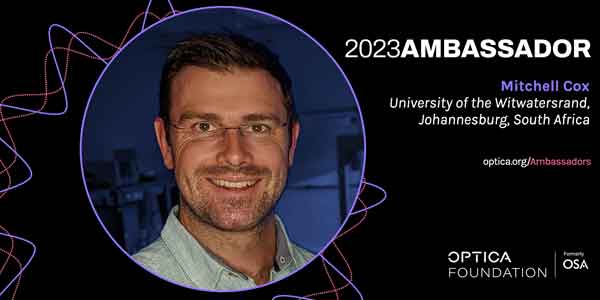 An emerging leader in the field of structured light-based optical communications, Dr Mitch Cox is the second Ambassador chosen from Africa. He was also recently awarded the prestigious Friedel Sellschop fellowship in recognition of his exceptional research and his potential to become an international leader in the field of structured light optical communications. He is a Senior Lecturer in the School of Electrical and Information Engineering at Wits University and the co-founder of the Wits Optical Communication Lab (Wits OC Lab).
As a 2023 Optica Ambassador, Cox has two main objectives for the year. First, he aims to develop the optics community in South Africa by ensuring that everyone working in optics is aware of the benefits of joining an Optica chapter, especially in cases where there are enclaves of "forgotten" people who are not aware of chapters in neighbouring faculties.
Secondly, Cox plans to visit some overseas student chapters to share his experiences and broaden his academic network, while learning from their experiences. He will then feedback this experience to local student chapters and try to develop sustainable connections between them. "At the same time, I hope to create awareness about Wits University and the work in optics that we do in my lab, and in the Structured Light Lab in the School of Physics," he says.
Cox obtained his undergraduate degree in Electrical (Information) Engineering with distinction and then earned an MSc in High Energy Physics after working briefly in industry. He then pivoted his focus to his current passion and completed his PhD in Electrical Engineering, where he made several contributions related to increasing the range of free-space (wireless) optical links in turbulence by using what is called structured light – essentially customized laser beams that have novel shapes and properties, as opposed to a "dot" like a laser pointer.
At his lab, Cox and his team employ their expertise in structured light and "nerdy engineer skills" to create innovative solutions for long-range free-space optical communications, among other things. They utilise low cost, off-the-shelf components whenever possible – often in ways that were not intended by the manufacturers. With his broad and extensive interests, Cox has a vision of using his research to help bridge the digital divide and make high-speed internet access available to people globally.
"Since 2016, our Ambassadors have provided career advice, technical knowledge, and mentorship for our student members," said Michal Lipson, 2023 Optica President. "Our guiding principles of inclusivity, impact, and innovation are embedded in this program to reinforce our core values in the next generation of scientists, engineers, and corporate leaders."
Supported by the foundation's annual fund, Ambassadors visit student chapters, provide training at meetings and share their insights on webinars. The new inductees are expected to promote the importance of a diverse and inclusive photonics ecosystem spanning academia to industry.
About the Optica Foundation
Established in 2002, the Optica Foundation carries out charitable activities in support of the society's student and early career communities. We cultivate the next generation of leaders and innovators as they navigate advanced degree programs and become active members of research, engineering and business worldwide. The foundation also works to secure the endowments for Optica's awards and honors programs. The foundation is registered as a 501(c)(3) non-profit. For more information, visit optica.org/foundation.
About Optica
Optica (formerly OSA), Advancing Optics and Photonics Worldwide, is the society dedicated to promoting the generation, application, archiving and dissemination of knowledge in the field. Founded in 1916, it is the leading organization for scientists, engineers, business professionals, students and others interested in the science of light. Optica's renowned publications, meetings, online resources and in-person activities fuel discoveries, shape real-life applications and accelerate scientific, technical and educational achievement. Discover more at: Optica.org