Digital makers invited to 'Own Your Force' as Fak'ugesi
- Fak'ugesi Festival
Cross-sector digital creative technology at 2019 Fak'ugesi Festival – Africa's best creative digital workshops, talks, pitches and digital art exhibitions
From 30 August to 8 September 2019 the Fak'ugesi African Digital Innovation Festival will return to Johannesburg to explore and celebrate technology and creativity by Africans for Africa. Wits University's Tshimologong Digital Innovation Precinct, in the youthful and dynamic heart of Braamfontein, will once again host this year's inspiring programme. The 2019 Festival is also made possible by sponsorship from the Agence Française de Développement (AFD), which includes a grant from AFD that enables Tshimologong to expand its activities to incorporate audio visual content creation.
The Tshimologong Precinct alongside Wits Theatre and the BKhz Gallery will host this year's mind-bending line up of hack-a-thons, game jams, aniMarathons, workshops, digital art, creative pitches, exhibitions as well as a special conference on creative economies and digital innovation.
In total, Fak'ugesi Festival will offer 15 creative technology workshops across the week, starting with the Festival's annual Making Weekend (31 August to 1 September) right until closing weekend on 7 September 2019, including an array of exciting talks, exhibitions, and meet-ups in between.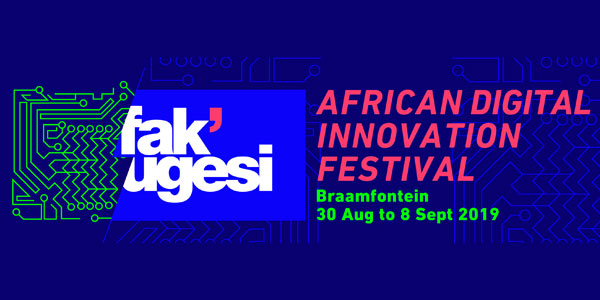 As part of a cross-sector evolution, with the aim of supporting cross sector development and exploration in the digital industries in South Africa, Fak'ugesi Festival is hosting four cross sector workshops. These include Screenwriting for games, Animation for games, Music for games and UX for games which then lead into a two-day Cross-Sector Game Jam that aims to see screenwriters, animators, musicians and other creatives join forces to prototype and develop new games.
Fak'ugesi 2019 workshops will also feature not-to-be-missed guest workshops by local and international visiting artists. The following are for those who love digital creativity:
Those inclined towards the business side of the creative enterprise can join the Creative Pitch Training led by Tshimologong Innovation Precinct's own Khwezi Fudu Cenenda, or a special partner workshop by Harare-based ComeXposed for their Creative Enterprise Workshop.
In keeping with the spirit of collaboration across diverse disciplines, this year will see Fak'ugesi Festival team up with AnimationSA in a very special full day Animation Master Series, specifically designed for Animation producers and studios, both small and large.
In the annual games-focused partnership with the Wits Digital Arts Department comes the Fak'ugesi Arcade, which in 2019 is made up of specialist workshops and cross-sector engagements, including guest artist Mark Lustigman from Darjeeling Studios in France on Using Cultural Heritage to Design Games & local super stars Alphabet Zoo together with Wits Game Design on Zines for Urban Games. Fak'ugesi Arcade also presents an opportunity for indie developers to pitch to a brand new African traveling platform Masidlale Fak'ugesi and a special Global South Focused "Ludus Lekgotla" of games-related talks linked to the Fak'ugesi Arcade opening on 3 September 2019.
This year the Fak'ugesi Festival will once again showcase an incredible line up of digital arts exhibitions that will run for the full duration of the Festival, from 30 August to 8 September. Just some art exhibition highlights include: Francois Knoetze with his newly completed Core Dump film series on electronic waste; the Fak'ugesi Digital African Residency Exhibition of emerging digital artists from Southern Africa; a series of live AR Poetry Works by "Giving Poetry Wings"; Arts Research Africa Resident artist Russel Hlongwane with Ifu Elimnyama and a very special collection of VR from Southern Africa title Southern VR with Electric South, Eden Labs, TMRW Gallery and the Centre for the Less Good Idea.
For a snapshot of the program highlights visit: What's happening at Fak'ugesi 2019.
About Fak'ugesi
Fak'ugesi - Joburg's one and only African Digital Innovation Festival will take place in September 2019, with the theme 'Own Your Force'. The 2019 festival will focus on bringing to the table important African visions and futures, by tapping into the sources of cross-sector collaboration and culture alongside technology, creativity and innovation. Explore how local culture can move and change the future of technology.
Fak'ugesi, which means "Switch it on" or "add power" in urban Zulu, is focused on culture, technology and innovation in Africa. It is an opportunity for young adults, with or without formal education, to learn or engage with tomorrow's technology.
According to an Impact Report commissioned by the British Council ConnectZA- Fak'ugesi is believed to be the most important digital creativity festival in Africa.
About Wits University's Tshimologong Digital Innovation Precinct
Setswana for "new beginnings", Tshimologong is one of Johannesburg's newest high-tech addresses in the vibrant inner-city district of Braamfontein, where the incubation of start-ups, the commercialisation of research and the development of high-level digital skills for students, working professionals and unemployed youths takes place. The Precinct was launched in September 2016 with strategic support from major companies including Microsoft, Cisco, TIA, Teraco, BCX, ACSA and MMI. Gauteng Province through its Department of E-Government and the City of Johannesburg have also provided significant support. The Precinct also houses the prestigious IBM Research's Lab Africa – one of only 12 such facilities in the world. Website: www.tshimologong.joburg