Africa is changing, radically, and digitisation is playing a pivotal role
- Wits Communications
The outcomes from the 2018 Fak'ugesi Festival and collaboration with the Wits Art Museum will be shown on Digital Imaginaries: Africas in Production in Germany.
The exibition will take place a the ZKM (Centre for Media Arts) in Karlsruhe, Germany opening from 16 November 2018 to 31 March 2019.
Most exciting is the announcement that both 2018 Fak'ugesi Digital Africa Resident Joshua Chiundiza and 2017 Fak'ugesi Digital Africa Resident Kombo Chapfika – both from Zimbabwe – have been chosen to present work as artists.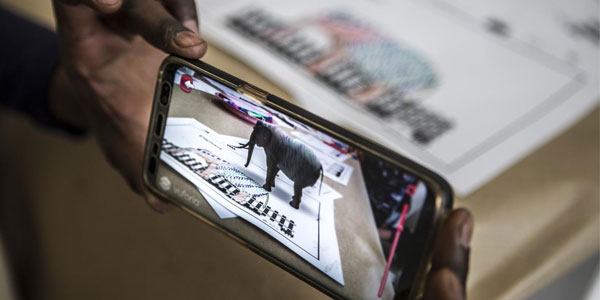 Says Dr Tegan Bristow, Fak'ugesi African Digital Innovation Festival director, "We are very grateful to Pro Helvetia and the ANT Fund who annually support the residency in the development of young digital artists from the SADC Region. There is clearly alot of incredible talent in the region that we hope to continue growing."
Outside of the residency artists, contributions from the 2018 Fak'ugesi Festival program include:
Outcomes from the Digital Spirit: Johannesburg augmented reality workshop led by Kim Arnaud Mukendi with participants Laura Seal, Antonio Marin-Pacheco, Arty Musoke, Chesway Theway, Mohau Moloke and Gerald Khumalo.
African Fractals at the Wits Art Museum

contributors from Wits School of Arts, Digital Arts, Laura Seal and Nhlanhla Lucky Nkosi.
Presentation of

Towards a Vocabulary for Vernacular Algorithms

from the Wits Art Museum exhibition Digital Imaginaries: Premonition with Alex Coelho, João Roxo, Russel Hlongwane and Dr.Tegan Bristow.
The 'Phinda Pattern Code' workshop that will be presented at the ZKM by Dr. Tegan Bristow.
About Fak'ugesi
Fak'ugesi - Joburg's one and only African Digital Innovation Festival will take place in September 2018, with the theme 'Tap your Africa Source Code'. The 2018 festival will focus on bringing to the table important African visions and futures, by tapping into the sources of African tradition and culture alongside technology, creativity and innovation. Explore how local culture can move and change the future of technology. What would you call a vernacular algorithm? What is algorithm in IsiZulu? In 2018 Fak'ugesi Festival calls on you to explore the algorithms, patterns and fractals of Africa! In digital art, music, games, VR, digital makers or the way you braid your hair.
Fak'ugesi, which means "Switch it on" or "add power" in urban Zulu, is focused on making young adults aware of digital innovation. It is an opportunity for young adults, with or without formal education, to learn or engage with tomorrow's technology.
According to an Impact Report commissioned by the British Council ConnectZA- Fak'ugesi is believed to be the most important digital creativity festival in Africa.