#4IRSA – Creating the future we want
- Wits University
First round table set the stage for South Africa to formulate a collective response to the Fourth Industrial Revolution.
How can South Africans create the future that we want to create within our means?
This is the question at the heart of #4IRSA, a partnership between Telkom and the Universities of the Witwatersrand (Wits University), Johannesburg (UJ) and Fort Hare.
Launched in September, #4IRSA is a vehicle to "stimulate and shape an inclusive and diverse fact-base dialogue on the impact of the Fourth Industrial Revolution (4IR) on South Africa and our response therein," said Professor Zeblon Vilakazi, Deputy Vice-Chancellor: Research at Wits University.
He was opening the #4IRSA partnership's first round table discussion on Friday, 16 November 2018, at BCX Technology Park in Centurion, Pretoria. This round table was a frank and open discussion between the #4IRSA partners and government departments, research entities, corporates, and other stakeholders.
Prof Zeblon Vilakazi opening 1st roundtable of #4IRSA - a collaboration between @WitsUniversity @mediauj @ufh1916 @TelkomZA and partners - to stimulate discussion on impact of #4IR on SA.pic.twitter.com/0vxMIoTu7V

— Wits_News (@Wits_News) November 16, 2018
"There are many unconnected, divergent conversations about the Fourth Industrial Revolution and the impact thereof happening at different levels in South Africa but it has to reach a point of convergence," Vilakazi added.
These conversations are already happening in industry, business, government and society, and #4IRSA want to bring the academic rigour to those discussions.
"Today we cannot prevent the advances of technology but 4IR is no longer just about ICT or technology," added Siyabonga Mhlangu, Managing Executive for Regulatory Affairs and Government Relations at Telkom. "We have to bring in universities that have the research tools and networks, and the credibility and stability to form some permanence in our collective response. We need to understand where we are today; and share the data that sits in different sectors and the different action plans. This will inform our priorities: Is our urgency health care? Or mining and manufacturing? How do we make sure that in future we become better than we are today?"
How do we develop a coherent response from all the critical conversations taking place in SA?
"Many conversations are somewhat emotional and not fact-based (such as the threat of machines to jobs)," says Professor Brian Armstrong, Chair in Digital Business in the Wits Business School and Secretary of the #4IRSA partnership.
"#4IRSA's approach is to be human-centered: What is the impact on society; on the economy; on policy; on the way people live, feel, think and perceive themselves? Our partnership started off by establishing a Secretariat and starting some research," said Armstrong.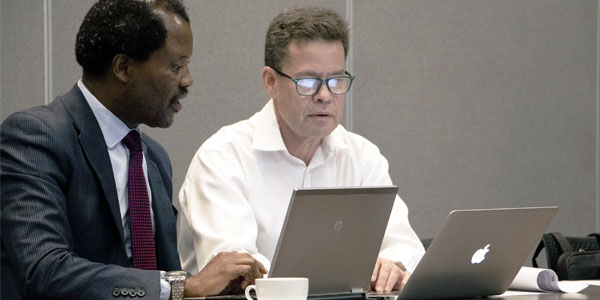 This research has culminated into five themes that #4IRSA will focus on in future discussions, collaborations and research:
Employment and Jobs
Inequality and Concentration
Society, State and Citizen
Opportunities
Critical Success Factors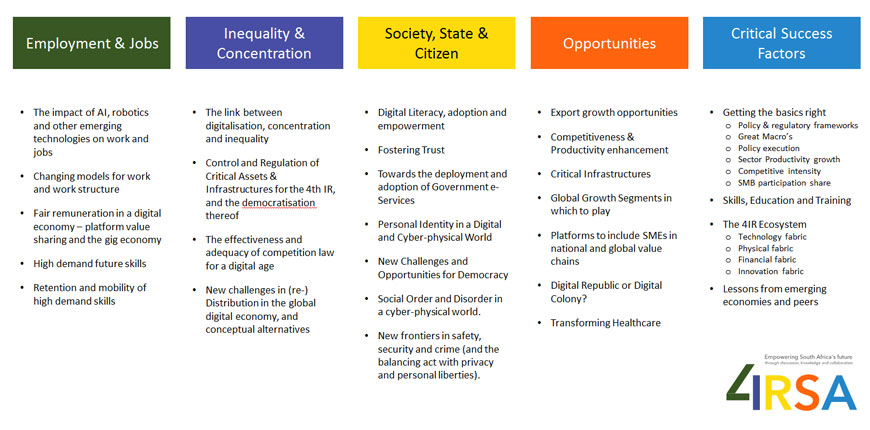 "Now we are in the broadening participation phase: getting government involved. Going forward we are planning of a series of rolling workshops and individual engagements across our industry sectors – as well as with labour, academia, civil society, and global organisations – to get as broad a participation as we can over the next few months," he added.
Drawing from the 4IR research expertise in the partner universities – Wits, UJ and Fort Hare – the partnership will also be reaching out to other partners in the Higher Education and research space.
"We will be producing a number of collaborative research and position papers encouraging everybody to contribute to the narratives and positions on the Fourth Industrial Revolution. The research will be curated and archived on a digital platform," Armstrong elaborated.
After these discussions #4IRSA will focus on its core ideal: a two-summit approach that will set the country onto its future course.
Moving forward, a "Summit of Principles" is envisioned to formulate the national agenda and understand what are the big issues that should be embed in the national discourse and kick off the elaboration phase where the collaborators will start to develop the researched-based responses.
And ultimately, the "Summit of Declaration" will be the convergence of all the various responses into a common understanding between different sectors and the government to show what are the important issues South Africa should focus on; how the country can take advantage of what is needed to be done; and how South Africans can harness all our energies into achieving these goals.
"This wave of change is coming and we cannot control it. But what is important is how we respond to it," said Armstrong.